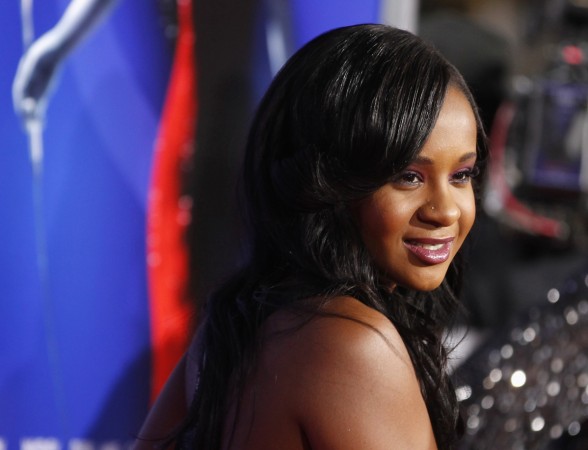 Bobbi Kristina Brown's family has said that she is showing signs of improvement and rushed rumours that the Browns have decided to remove life support on Wednesday, which happens to be the third death anniversary of her mother, Whitney Houston.
Several reports were doing the rounds a day before Whitney Houston's death anniversary that the Brown family had lost hope on Bobbi and had decided to pull off the life support at midnight symbolising that both the mother and daughter are together in eternity.
However, Bobby Brown, father of Bobbi, said in a statement through his lawyer Christopher Brown and obtained by People magazine that reports of the family deciding to remove life support were false and that they would "be dealt with at an appropriate time." He went on to say, "This is a criminal investigation and the integrity of that process requires silence."
"Bobby is dealing with Krissi's doctors to determine what can, should and will be done. He wants to make a decision based on facts, not on what the public feels that he needs to do," a relative of the Browns family told the magazine.
"Bobby is genuinely baffled that people are all giving their opinions online," added the relative. "If people want to help, they will pray for her recovery, not give their opinions about things they know nothing about."
Bobbi Kristina Brown's aunt, Leolah, went a step further by telling Fox 5 (transcript by USA Today) that Bobbi's health is improving. "She's opening her eyes. Krissi is doing well right now. She is," she said when asked about her niece's condition.
Several media houses, including TMZ and Page Six carried exclusive story that Bobbi would be taken off life support on Wednesday to coincide the death anniversary of her mother, Whitney Houston, who also died in a similar situation, in a bathtub at the Beverly Hilton Hotel three years ago. Page Six reported citing sources that Cissy Houston, grandmother of Bobbi came up with the idea of 11 February death during the Brown family discussion at Emory University Hospital in Atlanta.
The 21-year-old only child of Whitney Houston was found lying face down in a bathtub at her Georgia home on 31 January by her boyfriend, Nick Gordon and friend Max Lomas. She was rushed to an Atlanta hospital and has been in a medically-induced coma since then.
Police have launched a criminal investigation following injuries being found on Bobbi's body and that her boyfriend, Nick Gordon could be the target to find out if there was foul play Sources, reported TMZ.