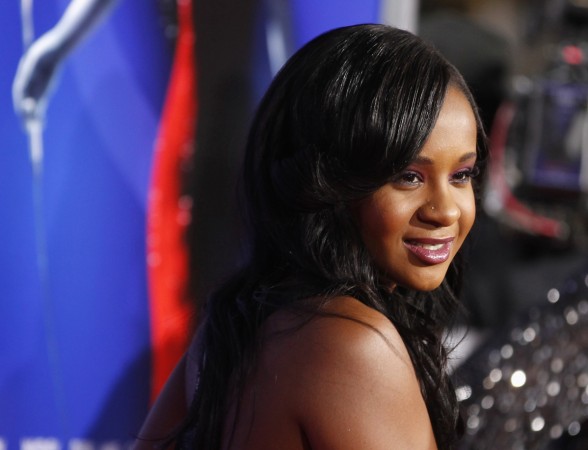 Rumours that Bobbi Kristina Brown has been taken home to die peacefully went viral online recently. But her aunt Leolah has denied the reports and blasted Bobbi's legal guardian in a lengthy Facebook post on Tuesday.
In her post, Leolah has not only rubbished rumours of Bobbi being taken home, but has also accused the 21-year-old's joint legal guardian Pat Houston of wanting to pull the plug off Kristina's life support long ago.
Leolah claims that Whitney's sister-in-law told Bobby Brown that it was costing too much to keep Bobbi Kristina alive.
In the message, she has requested her followers not to trust media reports and that Bobbi is improving by the day.
"The BIG lie has been told again that my niece Bobbi Kristina is going to be brought home..only to leave us. Please ignore any of these LIES coming from the media. BOBBI KRISTINA BROWN IS "NOT" ON LIFE SUPPORT ANYMORE AND SHE HAS SINCE THE BEGINNING AND AND IS CONTINUING TODAY TO IMPROVE. AND WE WILL NEVER GIVE UP ON HER! HELL NO! NOT ONE BROWN!"
Leolah goes on to say that her niece is getting the best possible care; the rest of the message reflects her rage towards Pat.
"Please be sure and know that, ONLY my brother Bobby Brown and my brother Tommy Brown who is Bobbi Kristina's father and uncle, has gotten Bobbi Kristina the best care possible...
"....FURTHERMORE, PAT HOUSTON IS NOT ALLOWED NO WHERE NEAR BOBBI KRISTINA, "PER BOBBI KRISTINA'S REQUEST.
"In the beginning of Bobbi Kristina being in a coma; Ms. So-called Pat Houston, Real name: 'Marion Patricia Watson Garland', wanted so badly and had the nerve to sarcastically say to my brother Bobby, 'why don't he just pull the plug on Bobbi Kriss, because it's costing too much money to keep her alive!' YES, Pat Garland did have that nerve to say that to Bobbi Kristina's father Bobby," Leolah wrote.
According to Leolah, Bobby replied Pat saying, "I don't give a dam how much money it takes to keep my daughter alive! It's not about the money! I will do what I have to to keep my daughter alive!"
"SINCE THEN, BOBBI KRISTINA HAS BEEN IMPROVING AND TAKEN OFF LIFE SUPPORT. GOD IS ON OUR SIDE! Now...PRINT & RADIO that!" wrote the 21-year-old's aunt.