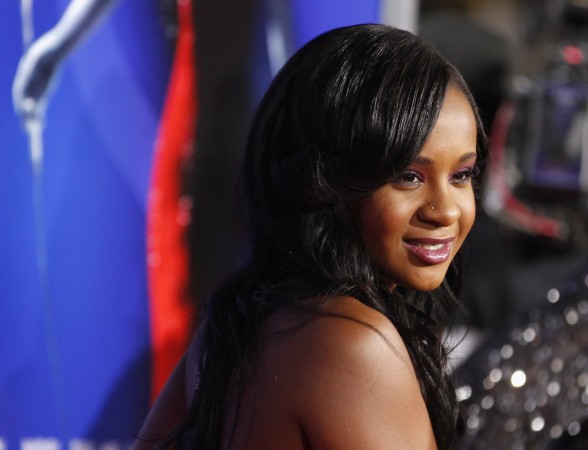 There are conflicting reports on Bobbi Kristina Brown's condition, with some claiming she has no shown no sign of improvement since being taken to the hospital after being found lying unconscious in a bathtub in January.
Now, a new source claims that the family should have pulled the plug long back, as Bobbi Kristina has been showing no signs of improvement.
"Bobby Brown should have let her go when the family all agreed back in February,"a FOX411 source said. "She's a vegetable."
However, the claims were rubbished by Bobby Brown's sister Leolah Brown, who said in a Facebook post that Bobbi Kristina was not on life support and her family has hopes for her recovery.
"BOBBI KRISTINA BROWN IS 'NOT' ON LIFE SUPPORT ANYMORE AND SHE HAS SINCE THE BEGINNING AND IS CONTINUING TODAY TO IMPROVE," the post read. "AND WE WILL NEVER GIVE UP ON HER! HELL NO! NOT ONE BROWN!"
Christopher Brown, legal counsel for Bobby Brown, released a statement noting that Bobbi Kristina was not being brought back home to die, as claimed by several news websites.
"Due to the numerous false reports and sensationalism regarding Bobbi Kristina over the last two weeks, there is a need to comment," Bobby's legal counsel said in the statement, according to Us Weekly. "Bobbi Kristina is not going home to die as numerous news affiliates and websites have reported."
The statement also contained a personal message from Bobby, who urged his fans not to believe statements made by anyone other than his attorney or himself. He also rubbished rumours of a feud between him and Pat Houston, who was recently appointed co-guardian of Bobbi Kristina's estate.
"Unless you hear it directly from me or through my attorney, do not believe any words attributed to me," he said. "I am making decisions with Pat Houston and we are working together for the medical care of my daughter. I do not have time for the frequent side shows that others choose to engage in almost on a daily basis."
He added: "Right now we are focused on Bobbi Kristina's medical prognosis and the criminal investigation. These are the priorities for us. Whoever had a hand in causing my daughter's injuries needs to be brought to justice."