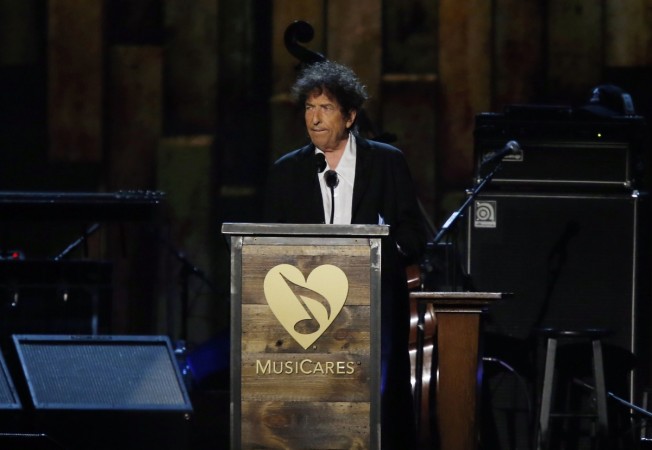 Legendary American singer Bob Dylan has churned out hit after hit over the last five decades. And it seems like he does not intend to stop anytime soon. The singer, who is currently preparing to release his 37th studio album "Fallen Angels" on May 20, 2016, celebrated the 50-year anniversary of one of his most iconic albums, "Blonde on Blonde," on May 16.
Initially known for his folks songs about social unrest in the United States in the 1960s, Dylan moved on to a more rock n' roll-oriented sound with "Blonde On Blonde." Dylan has also experimented with blues, country and gospel music in his long career. With powerful lyrics and exceptional musicianship, Dylan has not only gathered a legendary status for himself but has also acted as a major influence to many future artistes.
Dylan will also be celebrating his 75th birthday very soon. So, while we anticipate his upcoming record and look forward to his birthday, let us revisit some of his most iconic albums.
Bringing It All Back Home (1965)
When an album has songs like "Subterranean Homesick Blues" and "On The Road Again," it signifies nothing but diversity. This record is special because it portrayed both sides of Dylan's musical inclinations at the same time. One side of the LP had Dylan sticking to his folk roots and the other side had him experiment with a rock/folk-rock sound.
The Freewheelin' Bob Dylan (1963)
This album contains one of the best-known songs ever sung by Dylan: "Blowin' in the Wind." However, that is not the only reason this is an iconic album. It is memorable because of its lyrical complexities and themes that reflect various social issues of the time.
Blonde On Blonde (1966)
Often regarded as one of the greatest albums of all time, "Blonde On Blonde" is also one of rock music's first double LPs. The album saw Dylan taking a headlong plunge into rock music with some of the best sessions musicians in the genre at the time. This album is iconic because Dylan never really turned back to folk after working on it.
Highway 61 Revisited (1965)
The hugely successful "Like a Rolling Stone" is from this album. With songs like "Ballad of a Thin Man" and "Desolation Row," the record helped establish Dylan as a rock music icon.
Blood On The Tracks (1975)
Dylan was going through a difficult phase in his career before releasing this album. His albums in general were not doing well in spite of he dropping some hit singles now and then. But after this record released, perceptions changed and so did the sales numbers. "Blood On The Tracks" is now regarded as Dylan's most successful album of all time.