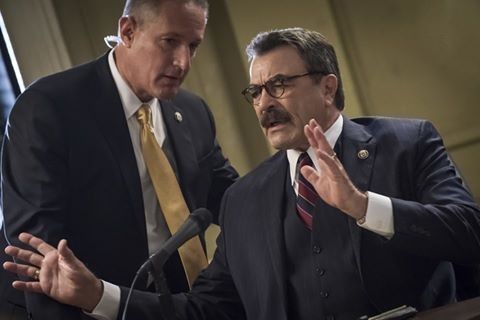 Friday's episode of Blue Bloods will see someone close to the Reagans getting in trouble, and this time it is Lieutanant Gormley. The promo for the episode titled Mob Rules shows a group of men attacking Gormley, the character essayed by Robert Clohessy, and they get even more infuriated when he reveals he is a cop. This incident forces Frank to hold a meeting where he urges everyone in the community to make sure such behaviour isn't tolerated.
Understandably, fans are worried Gormley could be killed off and the promo, which shows the officer in a hospital bed, hasn't put to rest rumours of a possible death.
Interestingly, some of the issues which are being dealt with in Season 7 of Blue Blood are what happens to police officials in real life. Speaking about this to Entertainment Weekly, showrunner Kevin Wade said they do a lot of research before making the decision to incorporate that element in the story.
"We've never brought in a headline regarding a police action or something and said, 'Let's do our version of this,'" he said. "We generally go the other way, where we do research, we follow certain blogs, and we certainly talk to a lot of cops...We try to get information where you go, 'Now this is an interesting story,' and two or three times per season we'll do it, and a month, two months, or three months later it will happen in real life."
Blue Bloods season 7 airs Fridays at 10 pm on CBS.
The synopsis for Mob Rules reads:
Intent on bringing justice to Lieutenant Gormley after he is beaten by a mob outside his home, Danny and Frank enlist the aid of Detective Anthony Abetemarco (Steve Schirripa), who has a personal connection to the neighborhood where the attack occurred. Also, Eddie and Jamie witness a dishonest arrest, and Danny searches for a witness to testify against a dangerous gang leader.