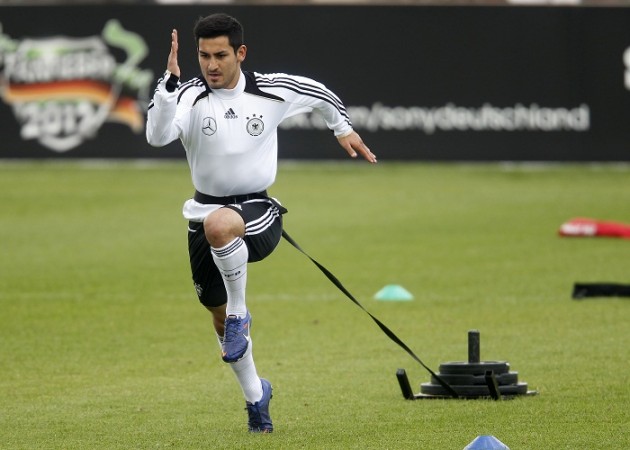 All hopes for Manbchester United of a possible move for German playmaker Ilkay Gundogan this summer has been dashed as the 24-year-old has agreed to extend his stay with Borussia Dortmund.
The current contract of the player with the German giants runs until the end of next season, but it is expected that Gundogan is set to sign on the dotted line that will see him stay with the club until the summer of 2017, according to Bild.
Premier League giants Manchester United were revealed to be in pole position to snap up Gundogan, who also attracted a decent amount of interest from Arsenal as well as La Liga giants Barcelona.
It was reported last week that Gundogan, who has plied his trade with the Ruhr giants since 2011, has decided to don the Black and Yellow colours for one more season, after having a conversation with new manager Thomas Tuche.
Tuche replaced Jurgen Klopp to take over as the manager of Dortmund this summer.
Even the player's agent and uncle Ilhan Gundogan revealed a few days back that his client was not heading out to any other club this summer and was willing to be a part of Tuche's plans.
"This [staying at Borussia Dortmund] is clearly an option again," Ilhan had said German daily Sueddeutsche Zeitung, when asked about a potential contract extension of Gundogan at Signal Iduna Park.
"There are several things in favour of Ilkay, [such as] finding his old level and doing that in a familiar, comfortable environment."
The 24-year-old midfield maestro had said in April that he would not be renewing a contract with Borussia Dortmund, amid wide interest shown by the heavyweight clubs from Europe.
It was thought that the departure of Klopp from Dortmund would be the reason for Gundogan to leave the club, but following positive talks with new coach Tuche, the player changed his mind.
Gundogan's uncle had also denied that Dortmund will be willing to release him for free following the end of the 2015-16 season, when his current contract with the club ends.
The question of a free transfer doesn't arise now if the player has indeed agreed on a one-year extension with the club.
Gundogan, often referred to as one of the best central midfielders in football today, arrived at Dortmund from Nurnberg, for a minimal fee. He has gone on to appear in 117 games for the club and has 12 goals and 14 assists to his name. He also lifted the Bundesliga title with Dortmund.
An unfortunate back injury ruled Gundogan out of the FIFA World Cup 2014, as Germany went on to win the title.