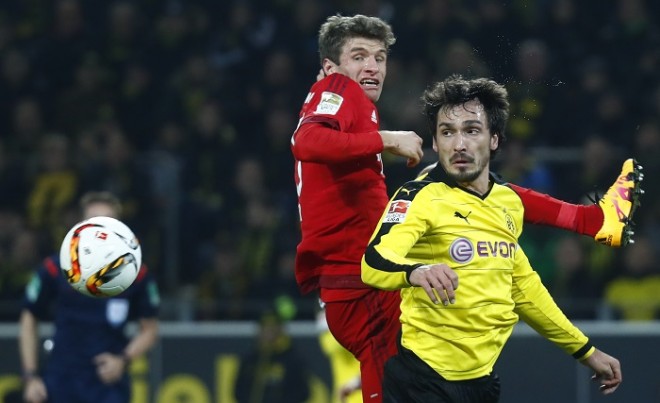 Manchester United were dealt a major blow in their transfer plans for the summer after Mats Hummels handed in a transfer request to Borussia Dortmund, expressing his desire to sign for Bayern Munich. Hummels has been heavily linked with a move to Manchester United for a while.
The Germany international has been tipped for a transfer away from Borussia Dortmund, with just a year remaining on his contract come the end of this season. While a shift to the English Premier League looked likely, with Manchester United the frontrunners for his signature, Hummels has decided to stay in the Bundesliga and play for Dortmund's biggest title rivals from next season.
"Defender Mats Hummel has informed the club that he wishes to leave in the summer and join domestic league rivals Bayern Munich," Dortmund said in a statement on their website.
However, a deal is not quite cut and dry as yet, as Bayern Munich are yet to make an official offer for the 27-year-old, with Borussia Dortmund making it clear Hummels, who joined Dortmund from Bayern Munich, does not have a release clause in his current contract, which runs until the summer of 2017.
"Borussia Dortmund's business directors have decided that the feasibility of such a transfer will depend on Bayern Munich paying Borussia Dortmund an appropriate fee for a player of his incredibly high standard," the statement continued. "At time of going to press, Bayern Munich had made no offer.
"As a cautionary measure, it has been made publicly known that no release clause was negotiated with Mats Hummels -- as with all other players currently at Borussia Dortmund -- as part of his contract, and that the player is contractually beholden to the club until 30 June 2017."
This will not be the first time that a Dortmund player moves to Bayern, with Mario Gotze and Robert Lewandowski doing so in 2013 and 2014.
Gotze, who has not quite been able to make as big an impact as he would have hoped for at Bayern, has been linked with a move back to Dortmund. Liverpool are also keen on Gotze, with Jurgen Klopp keen on reuniting with the playmaker he moulded into one of the brightest young players in Germany.