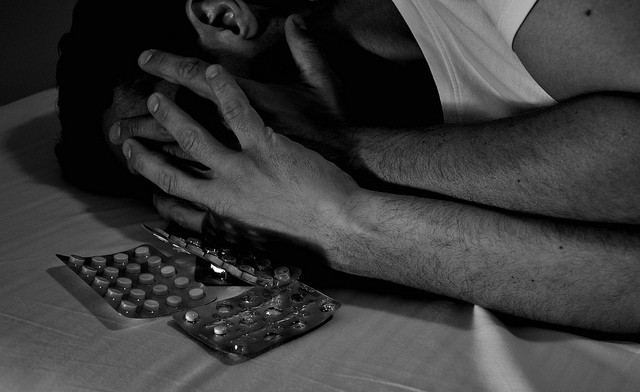 Scientists have developed a blood test to find out people who are at greater risk of committing suicide.
The test works by identifying chemical alterations in a gene called SKA2 that is produced in response to stress. The SKA2 gene safeguards stress hormone receptors by helping them to suppress release of stress hormone cortisol in brain. Proper release of SKA2 is crucial for regulation of negative thoughts and impulsive behaviour.
"We have found a gene that we think could be really important for consistently identifying a range of behaviors from suicidal thoughts to attempts to completions," Dr Zachary Kaminsky who led the study, said in a news release. "We need to study this in a larger sample but we believe that we might be able to monitor the blood to identify those at risk of suicide."
Researchers from the Johns Hopkins University School of Medicine in US noticed that in some mentally ill people, an epigenetic modification in SKA2 produced chemicals called methyl groups.
Brain samples collected from mentally ill or people who killed themselves had lower levels of SKA2 and higher levels of methylation than healthy people.
Effectiveness of the blood test was examined on 325 people enrolled in the Johns Hopkins Center for Prevention Research Study. Participants with suicidal thoughts had higher levels of methylation at SKA2. Based on the results, researchers designed a model that predicted people having suicidal thoughts or who had earlier attempted suicide and those who are at severe risk of suicide with 80 and 90 percent accuracy. The blood test also succeeded in correctly identifying people who had earlier attempted suicide.
At least one person in the world commits suicide every 40 seconds, (8,00,000 people per year), a World Health Organization (WHO) report shows. In India, about one lakh people kill themselves every year, according to AASRA, a Mumbai based mental health NGO. The findings are expected to prevent suicide rates.
"Suicide is a major preventable public health problem, but we have been stymied in our prevention efforts because we have no consistent way to predict those who are at increased risk of killing themselves," Dr Kaminsky, said. "With a test like ours, we may be able to stem suicide rates by identifying those people and intervening early enough to head off a catastrophe."
Findings of the study have been published in The American Journal of Psychiatry.