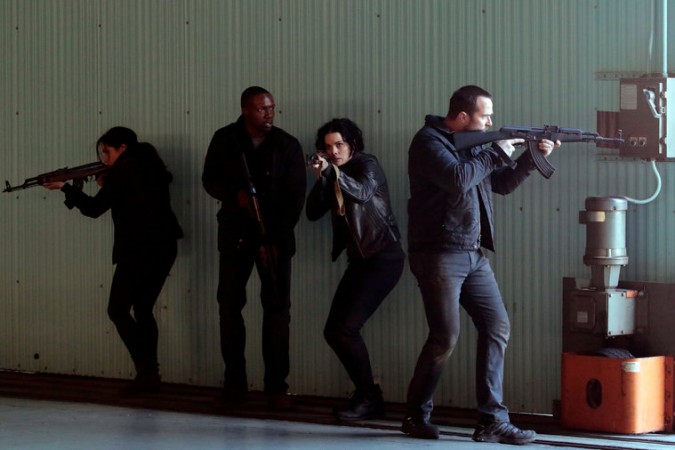 "Blindspot" Season 1 is all set to return after its long midseason break. The NBC series went on a hiatus after airing Episode 10, "Evil Handmade Instrument," on Nov. 23, 2015, and since then there has been a row of speculations about how the crime drama will take off in its second half. The wait finally comes to an end as fans can now watch the midseason premiere, Episode 11 "Cease Forcing Enemy," on Feb. 29, 2016.
CLICK HERE to watch "Blindspot" Episode 11 titled "Cease Forcing Enemy" live. CLICK HERE to watch it later online.
Blindspot Season 1 fall finale ended in a cliffhanger with two major moments. One, Jane had a romantic moment with Kurt Weller when she kissed him outside his house, and second, at the end of the episode, she discovered that she was responsible for her current state — the tattoos and the memory loss.
In the final scene of the midseason finale, Oscar (the man with the tree tattoo) showed Jane a video in which she was seen telling her future self that seeing the video meant that everything she's planned is falling into place.
And now, speculations are running wild about whether Jane was threatened to shoot this video or maybe she volunteered to do it. Also, now fans are curious to see how the dynamics between Jane and Weller will change with Oscar's entry.
While a Kurt-Jane-Oscar love triangle is strongly speculated, there are a few fans who think that Jane will still be hesitant whether or not to trust Oscar — just the way the synopsis teases.
Meanwhile, the synopsis of Episode 11 also hints that one of her tattoos will help the FBI make some "startling" discovery in the Black Sea.
Plot synopsis of "Cease Forcing Enemy" (via TV.com) reads: "A discovery in the Black Sea is made thanks to one of Jane's tattoos. Meanwhile, Jane is hesitant to trust Oscar as she struggles to come to terms with huge revelations about her tattoos."
"Blindspot" returns with Episode 11 titled "Cease Forcing Enemy" on NBC on Feb. 29, 2016, at 10 p.m.