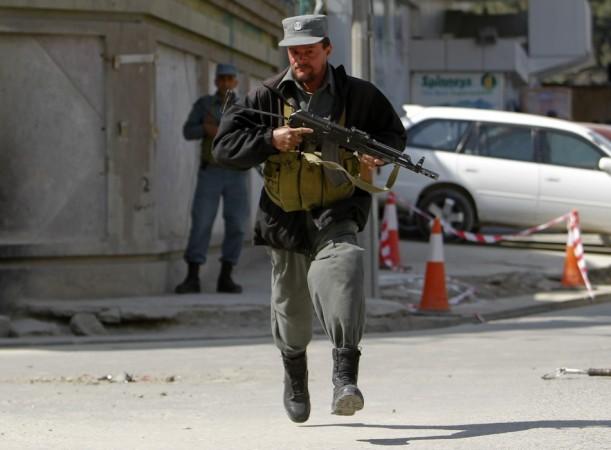 In a fresh bid to force the western officials out of Afghanistan, Taliban militants on Sunday carried out attacks on the building occupied by the western embassies.
The heavily guarded, central diplomatic area and the parliament in the west, was attacked by heavily armed terrorists. The Taliban camp launched multiple attacks with rocket-propelled grenade and guns in Afghanistan capital Kabul.
Taliban later claimed responsibility for the attacks and noted that its main target were German and British embassies and the headquarters of Afghanistan's NATO-led force.
"We claim responsibility for these attacks," said Taliban spokesman Zabihullah Mujahid.
Attackers fired a rocket-propelled grenade into a house used by British diplomats in the city centre and smoke billowed from the building after the blast, a Reuters witness said.
Two rockets hit a British Embassy guard tower near the Reuters office in the city.
There was heavy gun firing reported near the US and British embassies. And smoke billowed from the Germany diplomat building after suffering a bomb attack. However, so far there is no information on casualties in the latest attacks.
Three others hit a supermarket near the German Embassy popular with foreigners, Reuters reported. Women scurried for cover as crackling gunfire was heard above.
The Radical-Islamist groups in Afghanistan had been targeting the diplomats from the western countries, who have stationed in the Afghan to coordinate in the war-torn nation's military actions to contain the dominating extremism.
This attack is been touted as a move to step up the pressure on the Afghan government and western leaders to withdraw the troops from the Afghanistan by 2014, as planned by the terror groups.
The attacks in Afghanistan come after the Pakistan jail attack. On Sunday morning, Taliban militants attacked a jail in northwest Pakistan, in which about 400 prisoner including suspected militants escaped.
And the reports indicted Afghan Taliban hand in Banu central jail incident.
The Taliban of Pakistan and Afghanistan have a close links. Both outfits exchange intelligence and map out attacks. Counter-striking them has become a nearly impossible task for both the terror-hit nations.
(With inputs from Reuters)