Actress Blanca Blanco garnered a lot of media attention on Sunday night at the Oscars 2017 when her apparently suffered a wardrobe malfunction that resulted in her flashing her private part.
Also read: Watch Suits Season 6 finale live online: What's in store for Mike and Harvey?
The 36-year-old actress recently opened up to Daily Mail about the accident and revealed that she was mortified after her dress slipped aside on the red carpet. However, she insisted she did not go commando for the function.
"I had a bodysuit on, it is like a swimsuit, for some reason the pictures are looking like I have nothing," she told the media outlet. "It was a nude color, it matches my skin, so I wasn't naked."
Blanco also said she had no desire to flash her underwear on the red carpet, and said the wardrobe malfunction was an accident. "I didn't think ''I'm going to expose myself at the Oscars,'' that was not the idea. It was not a strategy or anything. The Oscars is very important event and it is my dream to someday be there as a nominee and I respect the Oscars. I would not think of just going naked."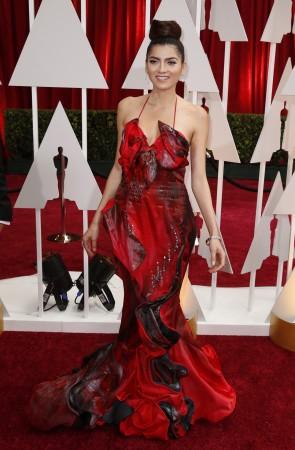 The actress realised she had made headlines after she started getting text messages from people midway through the Oscars.
Blanco revealed she was the one who designed the dress and said her main agenda was to get on the Best Dressed List. "Two years ago I went to the Oscars and for some reason they didn't like my outfit... So I was in the Worst Dressed category. I was hoping that this year it would be different."