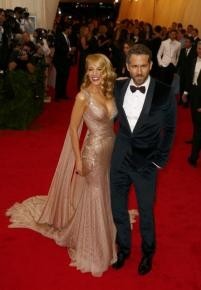 'The Green Lantern' co-stars, Blake Lively and Ryan Reynolds, welcomed their first child during the Holiday season this December.
According to the New York Post's Page Six, 27-year-old Lively reportedly gave birth near their home in Bedford, New York, just before the New Year. People confirmed the news. Reynolds, 38, and Lively married in 2012.
The baby arrived early but both mother and child are reportedly doing well.
"The baby came early but everyone is happy and healthy. The Bedford house is all prepared. They're going to stay up there for the baby's first days," sources told US Weekly.
Lively announced her pregnancy on her lifestyle website, 'Preserve'. She donned a number of stylish outfits at various events, showing off her growing baby bump.
While talking to People in October, she joked, "Have you seen me!? "I'm gonna amp up my style by wearing things that are stretchier — because that's all that fits!"
Lively always wanted to become a mother. "It's something that I've always wanted ever since I was a little girl. I knew I wanted to have a lot of kids because I had come from a big family so it was always important to me. So it's just the excitement of that finally being here," USWeekly reports.
Even though the sex of the baby has not been revealed as yet, Reynolds pitched some possible baby name ideas a few months ago.
"On the plane over here I was trying to think of baby names. I don't want a name that's anything pretentious or, like, Hollywood-y. So I'm going with Excalibur Anaconda Reynolds ... that's if it's a girl," he joked in October.
Reynolds, like most to-be-fathers, cannot contain his excitement. "I'm just excited about having a buddy. For a lot of new dads, you tend to dwell on the mistakes you don't want to make. I'm at that stage still where I'm focused primarily on being open and understanding and leaving a lot of room for error," he told PEOPLE.
Reynolds reportedly made sure that his gorgeous wife enjoyed a care-free pregnancy.
An insider told USWeekly: "Ryan is being such a sweet hubby, he's giving her foot and back rubs constantly! He jokes that she doesn't even have to ask anymore, he just automatically does it."