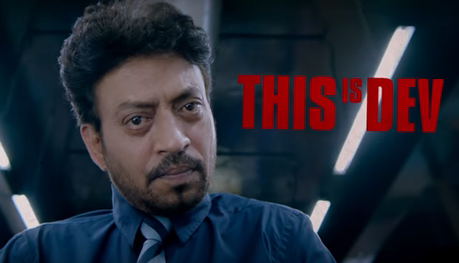 After the success of Aamir Khan Productions' 'Delhi Belly', Abhinay Deo returns as the director of a yet another quirky comedy 'Blackमेल', which in a nutshell, raises the question: 'What will you do if you catch your wife cheating on you?'.
The movie begins with Irrfan Khan realising that his wife is cheating on him. Instead of killing the lover or wife, he plans a blackmail. And what happens next is something that will crack you up!
Blackमेल' takes the case of infidelity and turns it on its head. In the past, there have been numerous cases where partners have reacted very violently when they have discovered that their significant other is cheating on them. Most recently Akshay Kumar's Rustom was based on the infamous Nanavati Case where naval officer K. M. Nanavati murdered his wife's lover Prem Ahuja.
Abhinay Deo took a long seven-year period to pick up his next comedy directorial after Delhi Belly, as the filmmaker wished to get the right script which would match up to his debut directorial.
Talking about the same, director Abhinay Deo said, "Delhi Belly was an amazing script, and after the massive success of the film, I was looking for a script that would be at par if not better, and then finally 47 scripts and 6 years later I found the one. The moment I read the script, I knew that Blackmail was the film I wanted to make next."
Starring Irrfan Khan in the lead, the teaser of 'Blackमेल' released on Valentine's day and took the internet by storm. Showcasing a bare-chested Irrfan Khan running around the streets in nothing more than boxer shorts, the teaser intrigued the audience to know the story of a man covering his face with a bra and panty paper bag.
With the National award winner Irrfan Khan, comedy seems to have become a favourite genre with T-Series' produced Hindi Medium fetching him this year's Filmfare Award for the Best Actor (Male).
Starring an ensemble cast comprising of Irrfan Khan, Kirti Kulhari, Divya Dutta, Arunoday Singh, Omi Vaidya, Anuja Sathe, Pradhuman Singh Mall, Gajraj Rao amongst many others, the film promises to be a crazy comedy backed by entertaining performers.
Produced by T-Series' Bhushan Kumar and RDP Motion Pictures' Abhinay Deo, Blackमेल directed by Abhinay Deo is slated to release on 6th April, 2018.