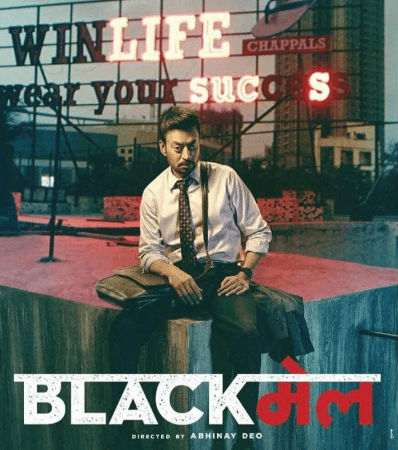 Irrfan Khan's Blackmail has been getting rave reviews from critics as well as from Bollywood celebs.
The dark comedy is slated to release April 6, but some special screenings were conducted, following which several positive reviews for the film have started pouring in.
Social media is abuzz with celebs praising Blackmail and Irrfan's stellar performance. Several critics have also given their verdict on the film, and even they can't stop going gaga over the quirky movie.
Directed by Delhi Belly famed Abhinay Deo, Blackmail apparently has a number of interesting twists and turns that keep the audience hooked to the seat.
Even the director is being praised highly for the engaging narration. Also, the movie has some dark humor that further ups the fun quotient.
Check here what the critics have to say about Blackmail:
Rachit Gupta from Times of India: The plot of Blackmail is its hero and it manages to strike a good balance between dark and funny. Characters are bumped off, sometimes in most gory detail and strange events unfold, but the film never loses its vein of easy, black humor. This is one of the most wickedly funny films that we've seen in a long time.
Bollywood Hungama: On the whole, BLACKMAIL is quite an unconventional entertainer and a good black comedy. It may not have a pan India appeal but the target multiplex audience are sure to enjoy this flick. The costs of this film are reasonable and as a result, it'll turn out to be a profitable venture for its producers.
IANS: "Blackmail" is a virgin territory in the comedy genre. It is heady and hedonistic, cocky and compelling in the way the comedies of Hrishikesh Mukherjee and Basu Chatterjee used to be. If only these veterans could see the sexiness that underlines all gender wars. "Blackmail" is a closeted Hrishikesh Mukherjee comedy with oodles of extra voluptuousness.
Rohit Bhatnagar from Deccan Chronicle: Blackmail is an epic fail and a complete mismatch of what served in the trailer. 'Trailer ne blackmail kar diya'!
Sweta Kaushal from Hindustan Times: If there is one thing that offers roadblocks in this otherwise fun ride, it is the slow pace with which Abhinav establishes his plot and characters. The initial one hour seems stretched as the story hardly moves in this period. It is only towards the second half that Blackmail picks up pace. However, the performances, fun filled and realistic story-telling keep you engaged and entertained.
Raja Sen from NDTV: Blackmail is a good crime for comedy. There is a victimless feel to it, because the crime has a sense of righteous comeuppance, since the person being blackmailed does, on some level, have it coming. That doesn't mean it's harmless, though. In bad movies about victimless crimes, the victims are the ones watching.
Meena Iyer from DNA: Actually, most of the cast gives superb performances. Irrfan with his poker-faced humour, Om Vaidya (who still has his 3 Idiots half-American twang), Kirti (as the unrepentant wife in an affair), Anuja Sathe as the prissy office girl, and even Anand (Pradhuman Singh), Dev's trusted colleague, who only dreams of downing vodka and deflowering virgins. Just go for it. You will be grinning for the most part.
#OneWordReview...#Blackमेल: BRILLIANT.
Rating:- ⭐️⭐️⭐️⭐️
One of those brave attempts that defy the stereotypes... Also, one of the best wild-wacky-quirky comedies to come out of the Hindi film industry... Strongly recommended!

— taran adarsh (@taran_adarsh) April 4, 2018
Check what the celebs are saying about the film:
T 2760 - Saw a delightful film today .. "BLACKMAIL" ..https://t.co/e79YFffALp .. a brilliant screenplay, unique story, exemplary performances and great presentation and editing ..
Actors excel from Irfan Khan to some fresh new faces .. so happy to see such creativity .. !! pic.twitter.com/Srv9BgiOE2

— Amitabh Bachchan (@SrBachchan) March 31, 2018