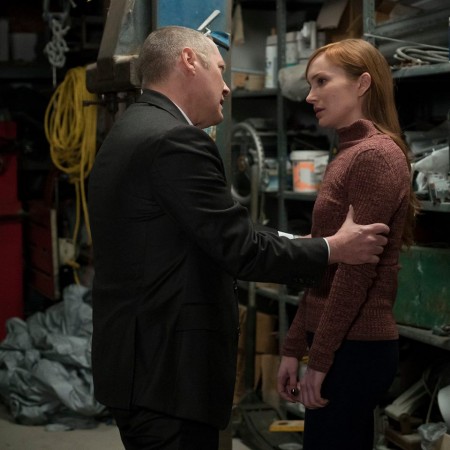 "The Blacklist" Season 3 returns with episode 19, focusing on the aftermath of Liz's tragic death in episode 18, "Mr Solomon: Conclusion." While fans think that Red just set up the death plot as an eyewash to save Liz's life, many think it could be to buy time, so that actress Megan Boone can give birth to her baby before she returns to the series in Season 4.
CLICK HERE to watch "The Blacklist" Season 3 episode 19, titled "Cape May," live online. To watch it later online CLICK HERE.
There's not much to talk about how tragically episode 18 ended, last week. The NBC series gave fans one of the biggest shockers in its history, when they killed off Liz Keen (Megan Boone) at the end of "Mr Solomon: Conclusion." But now, the question is whether Liz is actually dead or just playing dead to stay alive in the season and in the series? There's a huge possibility that Red might have faked Liz's death to keep her safe and alive, which he has done once in the past as well. Another major theory doing the rounds is that Liz maybe alive and interrogating doctors to find out what Mr. Kaplan has done with her?
Now, we don't know which of these is true, but episode 19 this week will focus on the repercussions of Liz's death. Red will be seen mourning Liz's death and will try coping with the tragic aftermath, but fans think he could just be faking it to play along.
According to the synopsis of "Cape May," Red will help a mysterious beauty, who is on the run from unknown assailants. And as she crosses path with Red, he may just help her fight back against her attackers. Has the mysterious beauty being brought in to fill Liz's void?
The promo for the upcoming episode shows Tom Keen confronting Red. Red is determined to be part of baby Agnes' life, but Tom warns him that he won't let him repeat the same mistake with the baby as he did with Liz.
Plot synopsis for "Cape May" (via TV Guide) reads: "An enigmatic beauty goes on the run from unknown attackers. When she happens upon Red, she enlists his help to retaliate against her assailants."
"The Blacklist" Season 3 episode 19, titled "Cape May," will be aired this Thursday, April 21, at 9 p.m. on NBC.