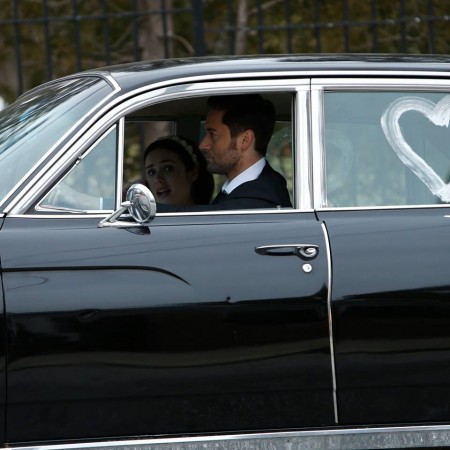 Did 'The Blacklist' Season 3 episode 18 just pull off a "Game of Thrones" by ending it with a shocking death? The NBC series witnessed the most horrific event in its history. Going by how "Mr Solomon: Conclusion" ended, fans are now left wondering if one of the major characters, Elizabeth Keen, is actually dead, after successfully giving birth to a baby girl. In tragic twist of events, it looks like Megan Boone's protagonist -- Liz -- couldn't make it alive post the C-section and was killed off at the end of Thursday's episode.
Red, who has done it all to protect Liz for the last three seasons, seemed to have failed to save her in episode 18 when they were hit by unexpected turn of events. As we know in the previous episode 17 Tom and Liz's wedding was interrupted when Solomon's men attacked them, but the couple managed to escape from the church.
The events in episode 18 picked up right from where "Mr Solomon" had left it. In "Mr Solomon: Conclusion" we saw that Tom and Liz barely made it out of the church and got into a car chase, leading to a car crash in which Liz was injured. Tom rushed her to the hospital and when Red arrived at the hospital, the doctor said that to keep the baby alive they will have to do a C-section.
Finally, they managed to bring out Tom and Liz's daughter to the world successfully, but then, it was Liz who seemed to not have survived the operation, due to a placental abruption caused by the car accident.
So, is Liz really dead? The answer to this question was given by James Spader, who plays Red, to Entertainment Weekly. "I think it's most prudent not only as just myself and what I know or don't know for that, but also in terms of the character of Reddington: Elizabeth Keen is dead," Spader told the website.
Meanwhile, many reports have also suggested that Liz's death could have been incorporated in the script to make way for actress Megan Boone's exit, who is herself preparing to give birth to her first child.
To know the aftermath of "Mr Solomon: Conclusion" and Liz's death tune back to watch "The Blacklist" Season 3 episode 19 next Thursday, April 21.