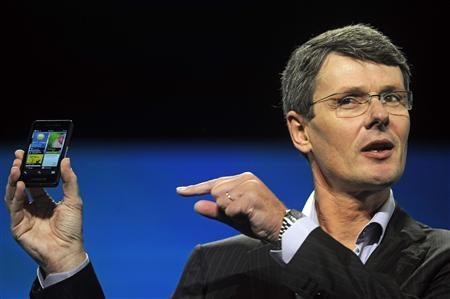 Canadian smartphone maker BlackBerry, formerly known by the name RIM (Research in Motion), launched two BlackBerry 10-based smartphones - a touch-screen Z10 and standard QWERTY keypad-based Q10 - on Jan 30.
With the launch of BlackBerry Z10 and Q10, the company rests on the hope that these handsets will salvage it from lost glory.
Company head Thorsten Heins was quite optimistic at the launch of the BlackBerry smartphones. He said that the new Z10 and Q10 handsets will deliver faster and smoother experience for consumers.
Does the touchscreen BlackBerry Z10 smartphone really pack enough ammunition to stack up against the record seller Galaxy S3?
Here is a breakdown of comparison of BlackBerry Z10 with the third generation Galaxy S smartphone [Spec Wise]:
Model

BlackBerry Z10

Samsung Galaxy S3

Display

4.2-inch display with

1280x768p resolutions

(356 pixel per inches)

4.8-inch display with

1280x720p resolutions

(306 ppi)

OS

BlackBerry 10

(Has more than 70,000 Apps)

Currently updated with

Android v4.1 OS Jelly Bean

(Has more than 750,000 Apps)

Processor

Dual-core processor with

1.5 GHz CPU speed

Quad-core processor with

1.4 GHz CPU speed

Internal memory

2GB RAM

1GB RAM (2GB RAM only in

Select markets)

Storage capacity

16GB, expandable up to

32GB

16 GB/32GB, expandable

up to 64GB

Camera

Rear: 8.0-MP
front: 2.0-MP

Main:8.0-MP with flash support

Front:1.9-MP with HD recording

Network

3G & 4G/LTE in select market

3G & 4G/LTE(only in select

market)

Battery

Has standby time up to 13 days

2,100 mAh with standby

time of 770 hours(3G)

Price

Expected to be around Rs. 40,000

Around Rs. 33,000
Remark:
BlackBerry Z10 has pretty descent display feature compared to Galaxy S3, but considering its dual-core processor compared to the Samsung smartphone's quad-core processor makes Z10 look outdated.
Many critics have appreciated the refreshing look of the BlackBerry 10 OS, but the only drawback is its lack of App collection. It has just more than 70,000 apps compared to Android's 750,000 plus apps.
Specs such as memory, battery capacity, camera specifications and other features are all quite standard for a high-end smartphone. But BlackBerry's Z10 specs will soon be outdated as recent reports suggest that rivals Apple and Samsung are all set to launch their next-generation flagship smartphones in coming months.
However, BlackBerry deserves an appreciation for coming up with neat-looking smartphones and has certainly begun the new year on a right note.