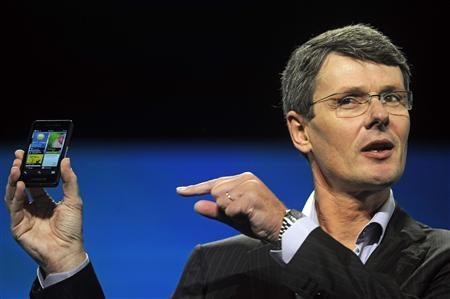 Canadian smartphone maker BlackBerry launched two new flagship smartphones - a full touch-screen Z10 and QWERTY keypad-based Q10 - hoping to revive its former glory in the smartphone business.
Understanding the current smartphone trend, BlackBerry has strategically planned to first release Z10 to compete against market leaders Apple, Samsung and especially Nokia which is making a strong comeback following record sales of its flagship Lumia series smartphones.
Few years ago, both BlackBerry and Nokia were both pioneers in the niche corporate business smartphone sector and basic handset market , respectively. Now, both the former leaders are struggling to keep pace with rivals Samsung and Apple.
Does the new BlackBerry Z10 really have enough tricks in its bag to make a serious dent in Lumia 920's sales in 2013.
Here is a breakdown of comparison between the BlackBerry Z10 and Nokia Lumia 920 [Spec Wise]:
Model

BlackBerry Z10

Nokia 920

Display

4.2-inch display with

1280x768p resolutions

(356 pixel per inches)

4.5-inch IPS LCD display with 1280x768p resolutions

(332 ppi)

OS

BlackBerry 10 OS

(has more than

70,000 Apps)

Windows Phone 8 OS (has close to 150,000

Apps)

Processor

1.5 GHz Dual-core Qualcomm Snapdragon S4 Plus processor

1.5GHz Dual-core Qualcomm Krait

processor

Internal

memory

2GB RAM

1GB RAM

Storage

capacity

16GB, expandable up to 32GB

32GB

Camera

Rear:8.0-megapixel camera

Front:2.0-megapixel camera

Rear:8.7-MP Pure View with Optical image stabilization

Front:1.3-MP with 720p HD video recording capability

Network

3G & 4G/LTE in select market

3G & 4G/LTE(not available

in India)

Battery

Standby time up to 13 days

2,000 mAh with standby time up to 400 hours(16 days)

price

Expected to be around Rs. 40,000

Around Rs.36,500
Remark:
BlackBerry Z10's 356 ppi (pixel per inch) display trumps Lumia 920's 332 ppi LCD display, but apart from that BB Z10's specs are more or less similar to Nokia's flagship device spec list.
Both the smartphones' mobile operating systems are new in the smartphone business. Windows Phone 8 was released only a few months ago, but it boasts close to 150,000 apps. On the other hand, the BlackBerry 10 OS has a collection of a little more than 70,000 apps.
Many critics have appreciated BlackBerry 10 OS's refreshing interface, but Windows phone 8 has received mixed reactions from tech reviewers. Even though BB Z10 features a cool interface, Windows Phone 8 OS is a more established ecosystem which boasts smartphone brands such as Samsung Ativ S, HTC Windows Phone 8X, etc.
Nokia's flagship smartphone with its superior 'Pure View' camera and low price tag may turn consumers away from the expensive BlackBerry's Z10.