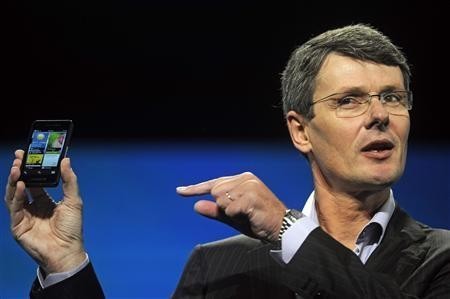 Canadian smartphone maker BlackBerry, formerly known as RIM (Research in Motion), pulled the wraps off its two most-awaited flagship smartphones, one full-touch screen smartphone Z10 and another QWERTY keypad based Q10 device on 30 January.
In its attempt for a strong comeback into the smartphone business arena, BlackBerry has strategically planned to initially release the dual-core touch screen smartphone Z10 to compete with the current touchscreen top sellers such as Apple iPhone 5 and other high-end smartphones.
But does the new BlackBerry Z10 come packed with enough arsenal to take a bite out of Apple iPhone 5's 2013 sales?
Here is a breakdown of comparison between the BlackBerry Z10 and Apple iPhone 5 [Spec Wise]:
Model

BlackBerry Z10

Apple iPhone 5

Display

4.2-inch display with

1280x768p resolutions

(356 pixel per inches)

4.0-inch display with

640x1,136p resolutions

(326 ppi)

OS

BlackBerry 10 OS

(has more than

70,000 Apps)

Apple iOS 6, currently

updated to iOS 6.1

(has more than 800,000

Apps)

Processor

Dual-core processor with

1.5 GHz clock speed

Dual-core Apple A6 processor with 1.3GHz

clock speed

Internal

memory

2GB RAM

1GB LPDDR2-1066 RAM

Storage

capacity

16GB, expandable up

to 32GB

Available in 16GB,32GB and

64GB variants

Camera

Rear:8.0-megapixel camera

Front:2.0-megapixel camera

Rear:8.0-MP with back-side

Illuminated sensor

Front:1.2-MP with 720p HD video recording capability

Network

3G & 4G/LTE in select market

3G & 4G/LTE(not available

in India)

Battery

Standby time up to 13 days

1,440 mAh with standby time up to225 hours(9 days)

price

Expected to be around Rs. 40,000

Above ₹42,500
Remark:
For shear sake of spec comparison, BlackBerry Z10's 356 ppi display trumps Apple's 326 ppi retina display screen. BB Z10 matches iPhone 5 in other aspects as well such as processor, battery capacity, camera specs, but the only drawback of BB Z10 is that it has a small collection of apps (close to 70,000) compared to Apple's huge cluster of 800,000 plus apps.
The company's newest OS BlackBerry 10 has received a good response from tech critics particulary for its refreshing interface.
BlackBerry has definitely begun the new year with a promising start but it has a tough road ahead in 2013. Many believe that the company is at fault for delaying the launch of its new smartphones, and soon these new devices will look pretty outdated to its rivals Apple and Samsung which are all set to launch their next generation smartphones in coming days.