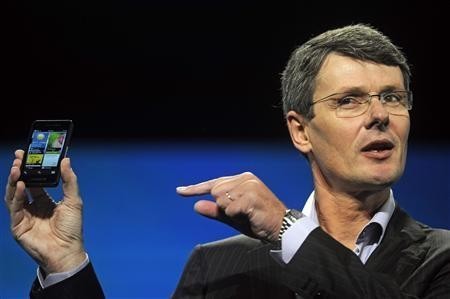 Canadian smartphone maker BlackBerry, formerly known by the name RIM (Research in Motion), is reportedly planning to launch the flagship touchscreen smartphone Z10 around mid-February in India.
The BlackBerry Z10 is said to be priced little less than ₹40, 000, but whether it can revive company's market share in a price conscious market like India remains to be seen.
The company had unveiled the flagship smartphone Z10 only a few days ago, but it is very much keen to release Z10 with less delay in Asia's two biggest Blackberry markets - Indonesia and India. According to the research firm IDC (International Data Corporation), Indonesia was the biggest market for Canadian smartphone maker outside the US and UK in 2012, where as India was placed ninth.
Another market intelligence firm ABI Research reported that BlackBerry accounted close to half the smartphone shipments in Indonesia during 2012.
Lately, BlackBerry has lost a vast market share with the rise of Android smartphones in Asia and in global markets as well. The company's market share is averaging around 5 percent globally.
Its newest flagship smartphone BlackBerry Z10 has received worldwide appreciation for its refreshing interface and features. Many believe that this smartphone might return its maker to its glory days.
Popular Indian technology journalist Rajiv Makhni was very much impressed by the BlackBerry Z10. "Let me first explain why this new OS and devices are going to be the reason why RIM could make the greatest comeback ever. First, BB10. This is BlackBerry rewritten from the ground up. It's slick and fast and looks like a million bucks. But far more than that is the innovation and features it holds." he said, reported Hindustan Times.
Makhni while appreciating the features of BlackBerry 10 OS said, "The BlackBerry Hub is the best and most intuitive integration I've seen of contacts, calendar, email and social apps such as Twitter, Facebook and LinkedIn. Swipe up and right and you get the BB Hub from anywhere."
Many tech gurus believe that the expensive price of tag of BB Z10 would deter price-conscious Asian consumers from buying it, but reports of record sales of iPhone 5 in China suggest otherwise.
Record sales of Samsung Galaxy S3 as well as Nokia Lumia smartphones is a testament to the fact that there is a good population of high-end smartphone buyers in Asia who are willing to buy expensive smartphone as long as the product is of a good quality.
Here is breakdown of Key Specs of BlackBerry Z10 :
Model

BlackBerry Z10

Display

4.2-inch display with 1280x768p resolutions

(356 pixel per inches)

OS

BlackBerry 10 OS (has more than 70,000 Apps)

Processor

1.5 GHz Dual-core Qualcomm Snapdragon S4 Plus processor

Internal

memory

2GB RAM

Storage

capacity

16GB flash memory, expandable up to 64GB

Camera

Rear:8.0-megapixel camera

Front:2.0-megapixel camera

Network

3G & 4G/LTE only in select markets

Battery

Standby time up to 13 days

price

Expected to be around ₹40,000
BlackBerry might have entered a bit late into the touch-screen smartphone business, but it has certainly begun a promising start in the new year with the new BlackBerry 10 based devices.
(With inputs from Reuters)