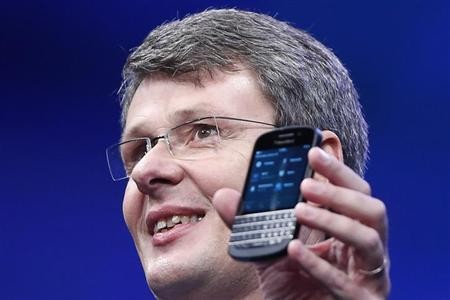 Canadian smartphone maker BlackBerry on Tuesday announced the mid-range QWERTY smartphone BlackBerry Q5 at the BlackBerry Live conference in Orlando, Florida.
The BlackBerry Q5 smartphone sports a re-engineered and newly designed keypad for faster typing and boasts a 3.1-inch LCD screen with 720x720p HD display powered by a 1.2GHz dual-core processor and 8GB internal memory with options of microSD slot further expansion. It also packs an un-removable battery. Specifications such as RAM, type of cameras and other details are yet to be revealed by the company.
BlackBerry Q5 will ship with BlackBerry 10 OS along with new features such as photo-editor Time Shift, Story Maker, screen share, video-calling, BlackBerry Hub. The company also said the BlackBerry App collection houses more than 125,000 applications, up 55,000 from when the new OS was launched in late January this year.
During the event, BlackBerry President and CEO, Thorsten Heins said, "The BlackBerry Q5 gives you the best of everything with its cutting-edge BlackBerry 10 functionality and a physical QWERTY keyboard. It is for youthful fans that are passionate, confident and bold, and it makes it easy for them to have fun, create, share and stay connected."
BlackBerry Q5 will come with four colour variants - red, black, white, and pink. The company has confirmed that the new smartphone will be made available at select markets in Europe, Middle East, Africa, Asia, Asia-Pacific and Latin America in early July.