BlackBerry's smartphone division took a big hit as rivals such as Apple, Samsung and newcomers Xiaomi and OnePlus took over one of the longest-serving smartphone brands in the world. But the company has been trying to make its way back to the big league after TCL acquired the brand in 2016.
After recently launching the Key2 smartphone, the company is jumping the bandwagon with other OEMs offering full-screen displays. Rumours about a new handset codenamed BlackBerry Ghost have been doing the rounds for a while now and there's new information from a noted mobile tipster about the unannounced handset.
As suggested by Evan Blass, BlackBerry Ghost could feature the biggest battery any flagship has offered so far. The leak suggests a massive 4,000mAh battery will power the BlackBerry Ghost smartphone, which is a much-needed upgrade considering most flagships focus on other elements such as performance, camera and the rest.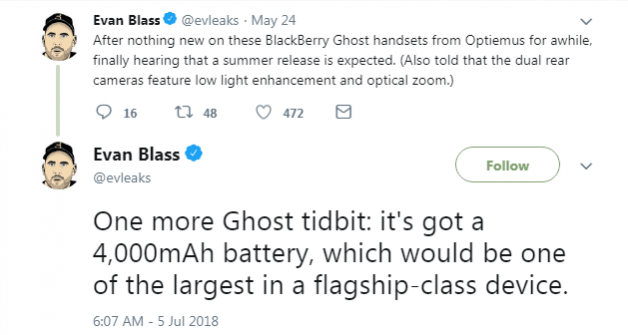 Considering the Ghost will be a flagship device and given BlackBerry's relation with Qualcomm, it is natural to expect a high-end Snapdragon chipset. The handset is due for a summer release, which hints at Snapdragon 845 chipset to be used in the phone.
It is also reported that the BlackBerry Ghost flagship will have a full-screen display without its signature physical keyboard that we recently witnessed in the Key2 smartphone. The handset is expected to have a display with 18:9 aspect ratio, narrow bezels and no notch.
Blass also suggested the Ghost smartphone could get a camera bump to level with its rivals. It is expected to have a dual camera setup at the back with low-light enhancement and optical zoom function.
A lot of details about the upcoming flagship are still missing. Following the current trend, BlackBerry, like Samsung, Apple and others, could launch a "Pro" variant. The specifications of the Ghost Pro are largely unknown, but we can expect to hear something sooner than later. Stay tuned for updates.