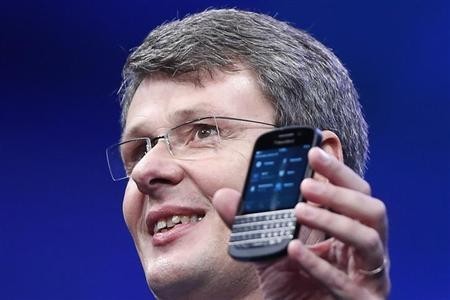 BlackBerry, after launching its touch-screen based Z10 and flagship QWERTY based Q10 in January 2013, is reportedly planning to bring in two phablets and a tablet PC in the coming months.
A snap-shot released by '@BB10Leaks' on their twitter page shows an alleged presentation of 'BlackBerry10 ROAD MAP 2013'. The picture gives hints that the one-time smartphone pioneer has drawn out a strategic plan to launch its first tablet PC code-named 'B10 L' in the end of Q3 or early Q4 and a phablet 'U10 B/W/C' in late 2013.
The leaked picture also shows that the QWERTY based big-screen smartphone 'R10 B/W' is expected to launch around the second quarter of 2014.
The speculations of BlackBerry re-entering the tablet business may have a ring of truth given that the tablet business is more lucrative than the desktop business. Global PC markets are shrinking steadily over the past few years owing to the launch of affordable and slim tablets which are fast out-selling bulky PCs.
When it comes to the phablet segment, the current market trend is inclined towards big-screen smartphones as big companies such Samsung, Sony, HTC, LG sans Apple all have launched their phablets and many more are in line to be launched this year. Hence, it will be no surprise that BlackBerry is most likely to launch a phablet of its own.
Meanwhile, sales of BlackBerry Z10 have reportedly hit two million in a few select regions across the world, while the QWERTY based Q10 smartphone is yet to hit global markets. Sales of Q10 are expected to begin later this month.
What remains to be seen is if the smartphones would beat Apple and Samsung devices in the long run.