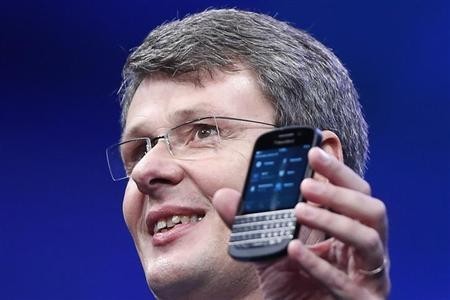 Canadian smartphone pioneer BlackBerry formerly known by the name RIM (Research in Motion) on Thursday announced that the company's latest BlackBerry 10 OS now houses more than 100,000 apps in its collection.
When the BlackBerry launched its flagship touch screen smartphone Z10 two months, many critics appreciated the refreshing new look and the simplicity of the mobile OS BlackBerry 10, but the only drawback of the new OS was its app collections of just a little over 70,000 when rivals Android and Apple were boasting more than 650,000 apps in their catalog.
However, BlackBerry in a very quick time has added 30,000 more apps within 7 weeks of its new mobile OS launch, and after breaching the 100,000 mark, BlackBerry seems to slowly and steadily catching up with the rival Microsoft Phone OS which houses 150,000 plus apps. Both the former technology pioneers are fighting for the top third position of global mobile operating system market share which is led by Google Android and Apple iOS.
According to latest survey, BlackBerry is currently placed third with 4.5 percent global mobile OS market share while the American software giant Microsoft is placed at fifth position with 2.5 percent even though it houses more apps than BlackBerry.
Market leaders Android and Apple are placed first and second with more than 70 percent and 21 percent market share respectively.
During the announcement, Vice President, Global Alliances at BlackBerry, Martyn Mallick said, "The response to the BlackBerry 10 platform and applications has been outstanding. Customers are thrilled with the applications already available, and the catalog just keeps growing, now with more than 100,000 apps."
"Top brands and application providers are joining us every day and are seeing the benefits of being early supporters of the new platform. We constantly hear from developers that the BlackBerry 10 tools are easy to build with and that we provide opportunities for app differentiation that they do not see on other platforms," he added.
The BlackBerry Z10 has received huge response across the UK, India, its home country Canada, and other regions of Asia as well as Europe, but many technology market analysts believe that BlackBerry's real test would be in US where it directly takes on rivals Apple and Android powered Samsung.
Company's CEO Thorsten Heins on the eve of BlackBerry launch in US has expressed optimistic about the BlackBerry's prospects in the American market, saying, "We (BlackBerry) would fight for each and every individual".
Mr. Heins further said that he has simple expectations in the launch of the Z10: to keep the company's current customer base, and expand market share moderately by roping in new consumers and also try to win back former BlackBerry consumers in to its fold, reported The Washington Post.
By adding 30,000 apps in to its 70,000 app collection, the Canadian company's App store BlackBerry World now houses more than 100,000 apps and has very good chance of impressing US consumers.
Features of BlackBerry 10 mobile OS include:
Black Berry Flow user-interface which allows user to seamlessly navigate apps in the phone with ease.
Split screen feature allow users to talk as well as send picture or text at the same time during a voice call.
BB10 OS also include BlackBerry Hub which groups all messages, calendar events, notifications and feeds into a single hub.
Z10's Keyboard comes with adaptability feature, which can take note of the users' writing speed and assist users to type faster and accurate.
BB 10 OS also boasts an innovative 'BlackBerry Balance' feature which keeps personal apps and information separate from work data. This new feature helps the user to switch from personal to work profile in a simple gesture.