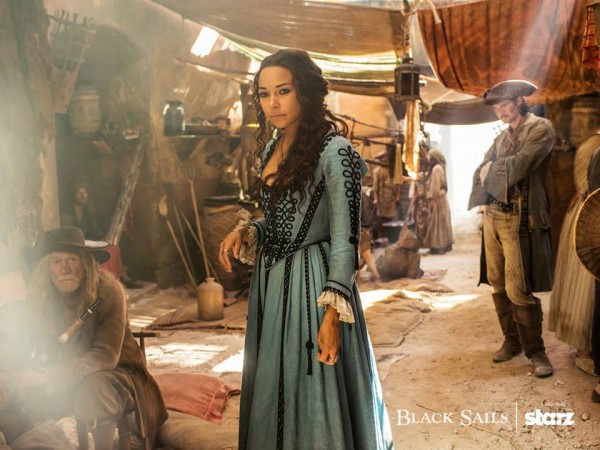 Starz's TV series, "Black Sails" is nothing like a romantic journey into the sea. The drama-thriller, considered a prequel to Robert Louis Stevenson's "Treasure Island" explores themes such as relationships, treachery and survival. In last week's episode, Captain Flint's (Toby Stephens) crew was forced to face a storm and even lost a member of their team. Meanwhile, Eleanor (Hannah New) carried on her power play to gain the influence she is always in need of.
However, Eleanor's schemes may not be successful. Actress Jessica Parker Kennedy, who plays the role of Max, hinted that Season 3 will depict more betrayals and more scheming. In an interview with Calgary Herald, Kennedy said that her character will be on a mission to stamp her authority in the New Providence Island while smarting from the wounds caused by Eleanor's betrayal.
Max, who is powerful at the end of Season 2, may plot against Eleanor for breaking her heart. "She is constantly playing chess, metaphorically speaking. She is always figuring out where she needs to put her pieces strategically. Season 3 is very much a strategic season for her, where she is figuring out who she needs to befriend," Kennedy said.
While Max will find herself in an influential position, the actress hinted that she will struggle to exert her power in the same way as Eleanor. Max will falter on the promises she has made and will struggle to maintain the friendships that are important. "There's a whole game to be played and she is figuring out how to do that in a way that works for her," she added.
Max's dangerous relationship with Jack Rackham (Toby Schmitz) and Anne Bonny (Clara Paget) to "protect the stolen Spanish gold from the Urca de Lima", will be tested when Rackham enters into an agreement with Vane and Flint, reported TV Guide.
Fans of the show will remember that Max is wary of Rakham. Furthermore, she will begin to doubt her relationship with Anne. In an interview with No White Noise, Kennedy said, "This partnership that she has with Anne, I think a really big question this season is, is that real? Is it something that she's doing to move herself forward? Is it somewhere in between?" It remains to be seen if her business partners end up betraying her in the end.
"Back Sails" Season 3 Episode 3's synopsis released via TV Muse reads:
"Silver gets pushed to his limit by Flint. Nassau readies itself to fight back against an invasion. Rackham steps up and takes control while Max gets her house in order. Vane must make a difficult choice if he hopes to avoid defeat."
"Black Sails" Season 3 Episode 3 airs on Saturday, 6 February at 9pm on Starz.