Elegant and sophisticated – black gowns and dresses have become the essential wardrobe staples for many celebrities. Angelina Jolie to Alia Bhatt, many beauty icons deliver their best in little black dresses (LBDs) and black gowns.
Every stylish woman understands the importance of having a black dress. Hence, it is the high time to give a classic update on your wardrobe. We've picked top 10 black gowns and little black dresses while checking the best celebrity style.
1. Aishwarya Rai Bachchan in a Nedret Taciroglu Gown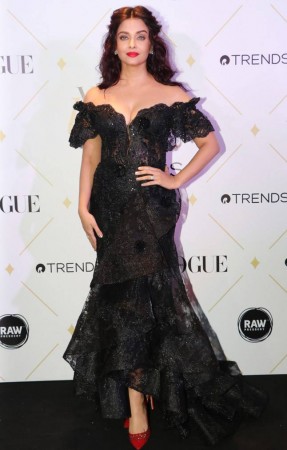 Have you missed Aishwarya Rai Bachchan's red carpet appearance at the Vogue Beauty Awards 2017? She had worn a black off-shoulder ruffled Nedret Taciroglu outfit. Its ravishing embroidery simply flatters her body. Along with her Cold-shoulder sheer gown, the heavenly beauty wore a bright red lipstick and red pumps. Breathtaking, isn't it?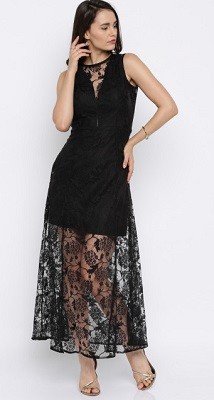 Miss Chase Women Black Lace Maxi Dress
Extremely chic! Here is a black lace knit maxi dress with a round neck and an opening at the back. Made from polyester, the sleeveless black lace dress is an ideal party wear.
Price: Rs. 2199 | Offer: Rs. 1,319
2. Kate Middleton in a Laced Little Black Dress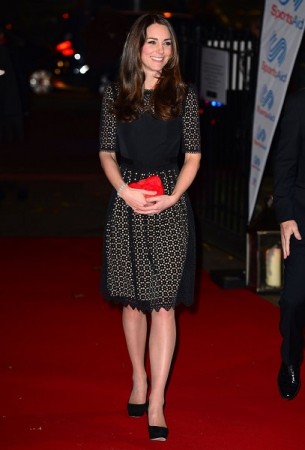 The Duchess of Cambridge, Catherine aka Kate Middleton, had worn a Temperley London little black dress at the SportsBall event in London. With elbow-length sleeves, the dress features a black laser cut design overlay. Her LBD was paired with a black suede Jimmy Choo Cosmic Pumps. To add a splash of colour to her overall appearance, the Duchess carried a red Alexander McQueen clutch.
Soie Women Black Lace Fit & Flare Dress
Lace and cutworks add more charm to this fit and flare dress. Made from nylon, this little black dress comes with V-neck and three-quarter sleeves. It looks truly classic!
Price: Rs. 2890 | Offer: Rs. 1,156
3. Anne Hathway in a Strappy Black Dress
Many times, Anne Hathway made her appearance in different iconic black dresses. The American actress had worn a knee-length strappy Victoria Beckham little black dress at Women's Media Awards, 2012 in New York. She painted her nails with red and white nail colours and opted black Casadei shoes.
FOREVER 21 Women Black Solid Bodycon Dress
Do you want to look like Anne Hathway in a strappy LBD? Boost your self-esteem and confidence in a solid knitted bodycon black dress. Shoulder straps, sleeveless and straight hem make the dress more attractive.
Price: Rs. 1,199
4. Angelina Jolie in a Black Peplum Dress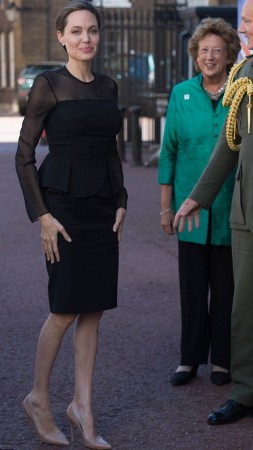 To participate in a UN Conference, Hollywood actress Angelina Jolie wore a chic knee-length black dress, featuring a peplum waist, sheer neckline and long sleeves. To complete the look, Angie worn simple accessories such as a pair of diamond studs and pink pumps.
Wills Lifestyle Women Black Self-Design Peplum Dress
Here is a black knitted round-neck peplum dress with lace inserts. The short sleeves dress has got an attached lining, zip closure and straight hem. Black pumps will add an edge to your elegance.
Price: Rs. 3,499 | Offer: Rs. 1,399
5. Priyanka Chopra in a Little Black Dress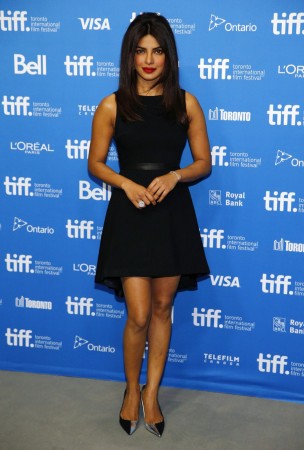 During the 'Mary Kom' Press Conference at Toronto International Film Festival 2014, former Miss World and actress, Priyanka Chopra appeared in a smoking hot little black dress. This Alice + Olivia dress featured an asymmetrical hemline with a leather waistband. She wore minimal accessories. A deep red lipstick, a beehive hairdo and Dior black and metallic pumps ensured her gorgeous charm.
DressBerry Women Black Solid Fit and Flare Dress
DressBerry presents a black solid knitted fit and flares little black dress with a round neck. This polyester sleeveless flared hem dress makes it an ideal wear for an evening party.
Price: Rs. 1,399 | Offer: Rs. 699
6. Emma Watson in a Black Gown
Known for her cutting-edge fashion sense, Emma Watson makes sure to give her best appearance, wherever she goes. Young Hollywood glamour wore a sombre Oscar de la Renta black gown during the New York premiere of Noah. Its low back in V-shape added its elegance. The actress carried a metallic clutch. Her accessories included an intricate gold hand chain, gold rings and diamond ear cuffs.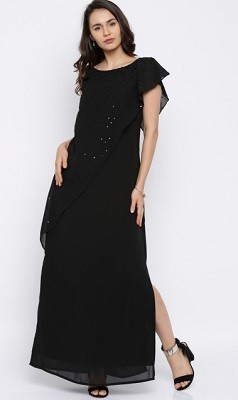 RARE Women Black Solid Sequinned Maxi Dress
This long maxi dress is ideal for any special occasions. This sleeveless layered dress comes with sequin details. Round front neck and a v-neck at the back make it ideal to wear for evening parties.
Price: Rs. 1799 | Offer: Rs. 989
7. Deepika Padukone in Alexander McQueen Gown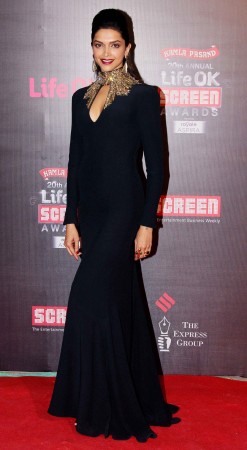 Bollywood actress Deepika Padukone wore a long-sleeved Alexander McQueen gown at the 2014 Screen Awards in India. A high neck keyhole cut-out collar and gold leave design were the key attractions. The actress opted a maroon lipstick with her fishtail gown. With her dangling earrings and puffed ponytail, she looked simply gorgeous.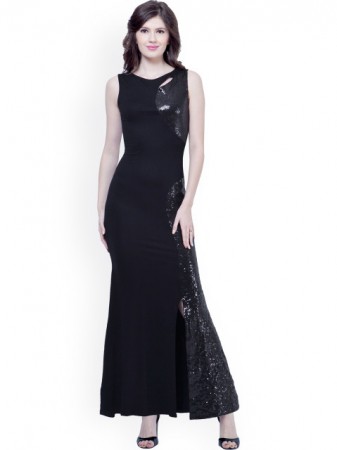 FabAlley Black Sequinned Maxi Dress
Here is a synthetic black knitted maxi dress with a round neck. The key feature of the sleeveless dress is its cut-out detail on one side at the bottom. There are a single side sequinned panel and a slit on one side of the front.
Price: Rs. 2,100 | Offer: Rs. 1,470
8. Taylor Swift in a Short Sleeves LBD
She makes us go speechless through her stunning red-carpet appearances. The young singer had worn a little black dress while attending the launch party of her album Red in New York. She paired her flared vintage dress with sophisticated peep-toe pumps. She looks extremely gorgeous in her red lips, classic braided updo hairstyle and straight bangs.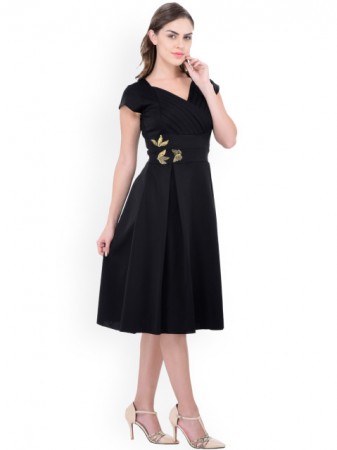 Athena Women Black Fit & Flare Dress
Let all eyes follow you to the next party! Pleats, applique detail, cap sleeves, v-neck at the front and back of this solid fit and flare dress bolster your elegance.
Price: Rs. 2,495 | Offer: Rs. 1,122
9. Sonam Kapoor in a Black Evening Gown
Even the critiques praise about the red-carpet appearance of Indian fashionista and actress, Sonam Kapoor. She was spotted in an Ashi Studio Cap Sleeve gown during an event in Mumbai hosted by Pernia Qureshi. The gown featured an off-shoulder neck and high-low hem. Her other charming features included a diamond necklace, black clutch, transparent pumps and ponytail.
Looking for a trendy evening gown to make this occasion special? Here is the right pick. Its wide neck, lace details and asymmetrical flared hem give you an elegant look.
Price: Rs. 1,381
10. Selena Gomez in Gold Embroidered LBD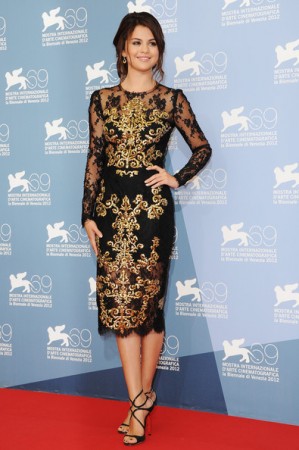 Singer and actress Selena Gomez wore a little black dress with gold brocade embroidery, during the Venice Film Festival at Palazzo del Casino. Her Dolce & Gabbana long-sleeve frock was paired with a black strappy Jimmy Choo 'Lance' sandals. The young charming singer wore gold Melinda Maria cluster earrings and given a loose updo hairstyle with a simple makeup.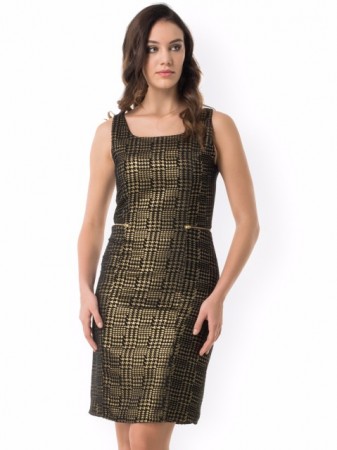 Kazo Women Black & Gold-Toned Printed Sheath Dress
The combination of black and gold-toned sleeveless dress will definitely be a great addition to your wardrobe. The polyester sheath dress has a square neck and a zip closure at the back, which is ideal for an evening date.
Price: Rs. 3,990 | Offer: Rs. 1,995