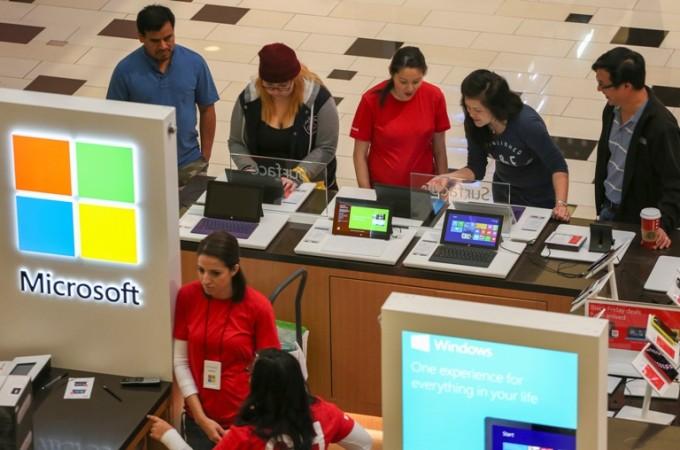 This holiday season major brands are slashing their prices to clear the inventory before the year ends. Hewlett Packard, Toshiba and E-Fun have joined the sub-$100 tablet category to attract shoppers. These devices can perform various operations like browse the web, show movies, play games, open Word documents, and also video chat.
Microsoft is also adding an exclusive deal on Windows tablets - one year of free Office 365 suite worth $65 along with 1TB of free OneDrive storage and 60 minutes of free Skype calling every month. Below are some Windows tablets that are easy on your pockets at less than $100.
HP Stream 7
HP Stream 7 is a 7-inch tablet with all Windows 8.1 features for just $99.99. The device is not as powerful as other pricey tablets but justifies its low-cost price tag. It is powered by Intel mobile processor to support 720p movie playback. The display sports 1280 x 800 pixels with 1GB RAM and 32GB internal storage. The Stream 7 features a 2-megapixel rear camera and a 0.3MP front shooter for selfies and videoconferencing. A microSD slot makes room for more storage and Wi-Fi and Bluetooth connectivity helps sharing.
HP Stream 7 can be purchased directly from HP's online store.
Toshiba Encore Mini
Toshiba's Windows based Encore Mini tablet is similar to the HP Stream 7 but with a slightly lower resolution at 1024 x 600 pixels and 16GB internal storage. The tablet retails for the same price as HP Stream 7 at $99.99, making HP's machine a better choice for consumers.
E-FUN Nextbook
E-Fun's Nextbook is for those who want a bigger screen without putting extra pressure on the pocket. The tablet offers an 8-inch display with 1280 x 800 pixel resolution, 16GB on-board storage and microSD expansion. E-Fun Nextbook can be connected to HDTV via its micro-HDMI slot for viewing movies and videos on the bigger screen. The camera and sharing options are the same as HP Stream 7. The tablet is priced at $99 and Walmart will offer it on Black Friday.
If you prefer Android or iOS tablets over Windows, Black Friday will have some great deals on them as well. Target and Walmart are offering generous gift cards on purchase of iPads while Best Buy is offering straight discounts on iOS-powered tablets. Samsung's Galaxy Tab Pro 8.4 with twice the screen resolution of HP Stream 7 along with other great specs, will be sold for $199 at Best Buy, Forbes reports.