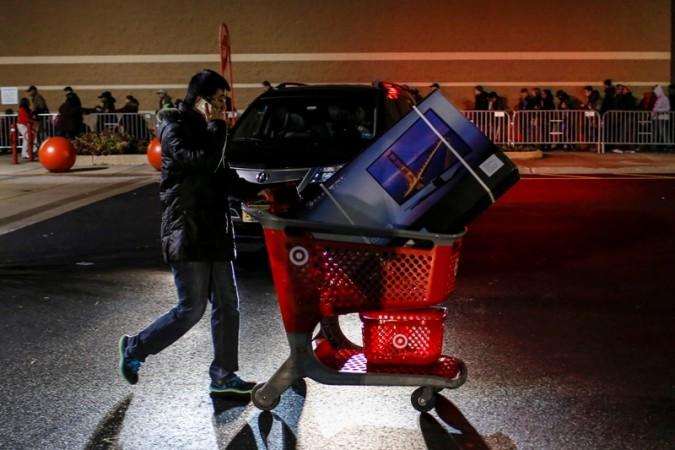 Even though Black Friday is at least six weeks away, rumours about the possible deals have started to trickle in. These mega annual sales not only grab the headlines, but also make consumers their king giving out huge discounts and offers.
In a move that might be followed by many other retailers in the future, GameStop, the video game retailer, has decided to close all its retail stores for Thanksgiving. It reiterated that this will let people spend time with friends and family and not hanker about finding the best deals.
"We believe strongly that our customers and associates should have the opportunity to spend the Thanksgiving holiday relaxing with family and friends, and not worrying with the stress of where to find the best shopping deals," iDigitalTimes quoted Mike Buskey, executive vice president of GameStop, as saying.
"We know this is in stark contrast to what many other retailers are doing, but we are taking a stance to protect family time during this important holiday."
GameStop's other stores like ThinkGeek, Spring Mobile, Simply Mac will also remain closed. But Buskey said that for people who want to make the best of the day can order games online on the GameStop website and on ThinkGeek website.
He promised that this year's GameStop Black Friday deals will be "bigger and better" than the ones before.
Thanksgiving falls on 27 November and Black Friday deals will be on the same day, but will start early and will be extending throughout the weekend into Cyber Monday 2015.
Wal-Mart, Best-Buy sale predictions
Sale websites like blackfriday.fm and blackfriday.com have predicted certain sales that can be expected for the upcoming Black Friday deals from some of the leading retailers like Wal-Mart, Best Buy, Groupon and others.
iPhones and iPads: Consumers wanting to buy products from Apple, like the iPhone or iPad will have to wait a bit, since there are chances that iPad Mini 3 and iPad Air 2 could have better deals. The new one in the market will be Apple's iPad Pro. The sale sites have no specific predictions for these new devices.
TV: Those planning to buy a TV will be happy to know that Best Buy might offer 50 inch Samsung TV for $497.
Android products: Consumers looking to buy Android products might be in for some good deals for cell phones and tablets. Predictions suggest Best Buy might offer several discounts on prepaid Android cell phones
Groupon: Groupon has already revealed the discounts it is offering for Thanksgiving in its Black Friday sale previews, where it is offering Samsung Galaxy S4 4G LTE for $119.99. Those interested can check other deals here.
PS4: To compete with its rival Xbox One, predictions from blackfriday.com blog reveal that Sony could drop prices for its console. It might offer PlayStation bundle for as low as $299.99. Apart from this, Sony could possibly include a $50 gift card. Sony had recently announced a price cut from $399.99 to $349.99.
The Uncharted: The Nathan Drake Collection PS4 bundle and the Star Wars Battlefront bundle are the two bundles that could be set for price drops from the current $349.99. It has been predicted that a gift card could also feature for this bundle.
Other such bundles that could be in for price drop include The Limited Edition Disney Infinity 3.0: Star Wars bundle, Limited Edition Star Wars Battlefront bundle and Limited Edition Call of Duty: Black Ops III 1TB bundle.
Xbox One: It has also been predicted that Mircosoft may not cut the price for Xbox One from its current $349.99, but the predictions reveal that it is possible that the Xbox One Gears of War Ultimate Edition bundle and The Lego Movie bundle might be offered at $299.99 with possible gift cards.
The Black Friday deals could also push Xbox One's The Rise of the Tomb Raider bundle, Gears of War bundle and the 1TB holiday bundle from its current price of $399.99 to a lesser one of around $349.99.
The report also predicts Xbox One Elite bundle and the Limited Edition Halo:5 Guardians bundle might also cut its prices from its current $499.99 to $ $450, and with the possibility of a gift card.
[Source: iDigitalTimes]