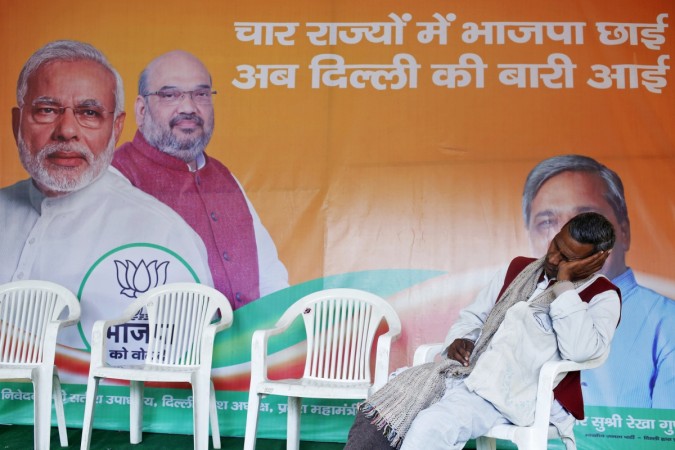 After BJP's comprehensive thrashing in the 2015 Delhi elections, Prime Minister Narendra Modi met top ministers Arun Jaitley, Venkaiah Naidu, Nitin Gadkari and Rajnath Singh on Tuesday evening to discuss the party's debacle. According to sources the post-mortem of the heavy defeat took place after a union cabinet meeting.
It was the heaviest-ever defeat suffered by a party in the history of Delhi state elections.
The tables were completely turned as AAP got a mandate similar to that of BJP's in the 2014 general elections.
BJP however played down the poll results and dismissed theories of the prime minister's popularity being on the decline. "This is not a referendum on the central government," said party spokesman GVL Narasimha Rao, reports NDTV.
Meanwhile, union minister Ravi Shankar was perturbed by the recent turn of events in Delhi. "The extent of our massive defeat is painful. What is a worry for us is why we were unable to gauge the mood of the people. Why we are losing Delhi again and again is a problem that we must introspect," he said.
Earlier on Tuesday, in one of the most stunning comebacks in Indian political history, Arvind Kejriwal's Aam Aadmi Party scored a landslide victory in Delhi, delivering to the BJP its first defeat since its historic Lok Sabha triumph and reducing the Congress, which ruled the capital for 15 years till 2013, to a virtual nonentity.
Tens of thousands of jubilant AAP activists celebrated across the capital and in many other cities as the 27-month-old party grabbed a sensational 67 of the 70 seats in the Delhi assembly, leaving just three seats for BJP - the highest victory margin for any party in Delhi so far.
(With IANS inputs)