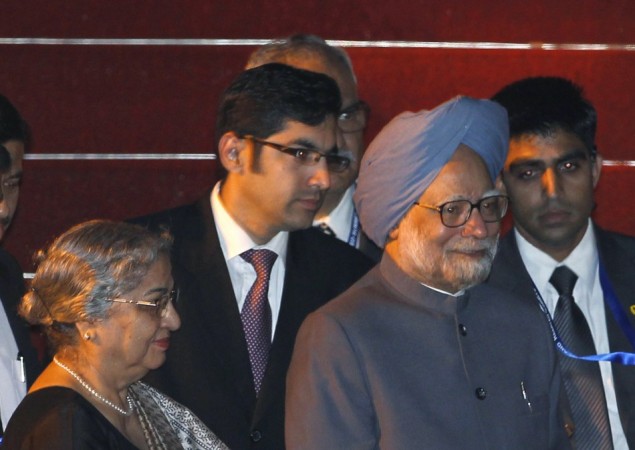 Prime Minister Manmohan Singh might have been belittled by his own party head Sonia Gandhi, but he has an admirer in the opposition. Bharatiya Janata Party's Arun Jaitley on 13 May, labeled the Prime Minister as a "man of scholarship," in his blogpost titled: "Looking back at Dr Manmohan Singh."
While the senior leader of BJP dismissed Singh as a leader, as powers of the prime minister's post have been hijacked by the party chief Sonia Gandhi, he appreciated Singh's stint as the Finance Minister of the country.
"Unquestionably, Dr Manmohan Singh was a very good Finance Minister. He got a lot of support from his Prime Minister, PV Narasimha Rao for initiating the economic reforms in 1991."
Jaitley described Singh as the Prime Minister appointed by Gandhi, due to which he could not do much on his own. The Prime Minister had been functioning within the limits laid down by Gandhi, the BJP leader said.
Jaitley wrote that the Prime Minister, while addressing the nation, never proved himself as a leader.
"He never wanted to rock the boat. He knew that he was vested with limited power and on all major decisions he had to keep the party and its first family in good humor."
Jaitley explained that if Singh wishes to write about his memoires about his prime ministerial experiences, he would like to know about the period between 1991 and 1996.
It can be recalled here that the BJP's prime ministerial candidate Narendra Modi, in his campaign for the party, mainly targeted the dynastic rule of Nehru-Gandhi family.
Modi called upon people to wipe out the "mother-son"(Sonia Gandhi and Congress vice-president Rahul Gandhi) rule at the Centre, by voting his party- BJP to power. When he toured in Andhra Pradesh, he explained how the Nehru-Gandhi family leaders ill-treated Congress stalwarts from the state, including late PV Narasimha Rao and late T Anjaiah.
Click here to read the full text of Arun Jaitley's blogpost on Manmohan Singh