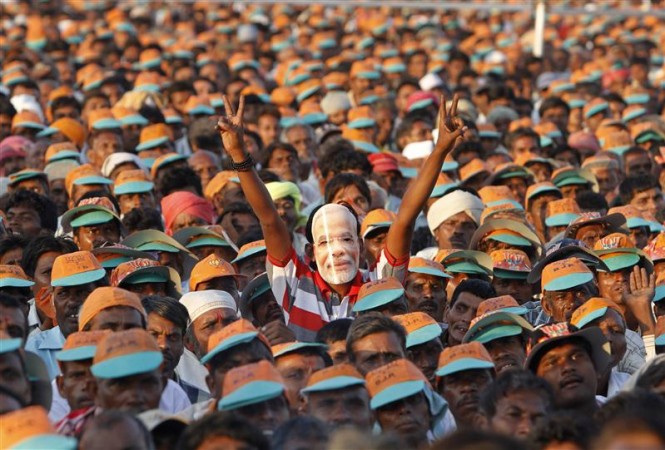 The Bharatiya Janata Party (BJP) is reportedly heading for a record sixth term win in the upcoming Gujarat Assembly elections, according to an opinion poll conducted by Times Now-VMR.
The poll states that the BJP will likely improve its 2012 tally when it had contested the elections under then Chief Minister Narendra Modi's leadership.
On Wednesday, the Election Commission of India (ECI) had announced the Gujarat Assembly elections schedule, which is to be held in two phases on December 9 and 14. The counting of the votes will be held on December 18.
The opinion poll projected that in the 182-member assembly, BJP is likely to get 118 to 134 seats, in comparison to the 115 seats won by the party in the 2012 election. Over 6,000 respondents were sampled in the poll.
The leading opposition party, Congress, meanwhile is projected to get 49 to 61 seats, the party had secured a total of 61 seats in the last elections. The poll also projected a four percent improvement in BJP's voters share, which increased from 48 percent in 2012 to 52 percent this time.
Congress' vote share, however, is predicted to decrease by two percent, from 39 percent to 37 percent.
Reports state that the main factors which have worked in BJP's favour in the projections are the decisions taken by Modi's region, as 42 percent of the respondents of the opinion polls said that their quality of life had improved after demonetisation and Goods and Services Tax (GST) reforms.
However, at least 40 percent of the respondents said that their quality of life has worsened after the changes, while 18 percent of them said that they feel no change.
The opinion poll also projected that BJP is expected to improve its strike rate from 60 percent to 81 percent in the prime minister's home region of north Gujarat because of the Modi factor. The region reportedly accounts for nearly 53 of the total seats.
The poll also stated that nearly 46 percent of the respondents felt that Modi's decision to construct a humongous Sardar Patel's statue has enhanced Gujarati pride. Although, 32 percent of the respondents consider the decision a poll stunt, according to Times of India.