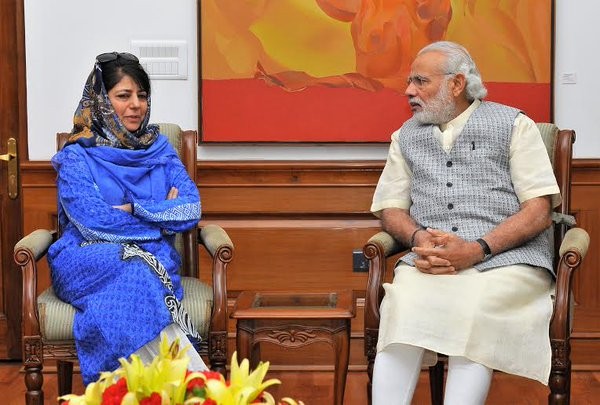 The Bharatiya Janata Party (BJP) unanimously supported the People's Democratic Party (PDP) for government formation in Jammu and Kashmir, BJP leader Nirmal Singh said Saturday. The two parties met governor NN Vohra regarding government formation Saturday.
Bringing the months-long standstill to an end, Mehbooba Mufti, PDP leader and the chief ministerial candidate, had visited New Delhi recently to talk to Prime Minister Narendra Modi about the political future of the state. The state had no government since her father and Jammu and Kashmir chief minister Mufti Mohammad Sayeed's death Jan. 7, 2016.
"We're thankful to the BJP for their unconditional support in formation of government in Jammu and Kashmir. I am very satisfied with the assurances that we received from the prime minister," Mehbooba Mufti was quoted as saying by ANI.
"We shall sit together with PDP and decide on the future course of action," Nirmal Singh, the deputy chief ministerial candidate was quoted as saying by ANI. Reacting to rumours regarding differences between the two parties, PDP chief spokesperson Naeem Akhtar was quoted as saying by the Press Trust of India, "There are no differences (between PDP and BJP). At a time when the government formation is in the process, rumours (on differences on distribution of portfolios) are baseless."
Earlier, reports had quoted BJP sources as saying that the party, though it extended support to PDP, wants to look at the portfolio distribution again. However, PDP leaders quoted by the Hindu said that the BJP has not "come up with any fresh demands." Mehbooba Mufti had also said after talking to Modi that the meeting was satisfactory.