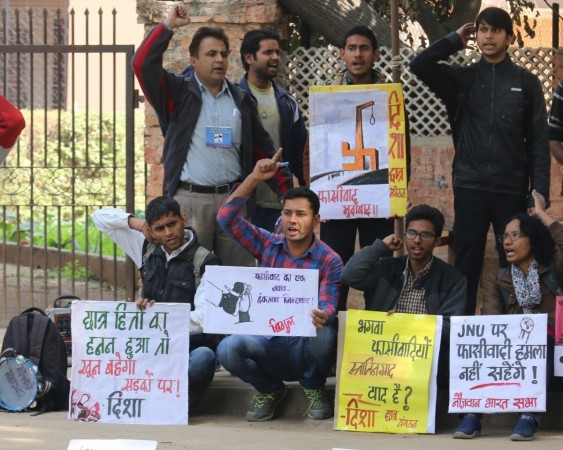 Bharatiya Janata Party (BJP) chief Amit Shah has reportedly summoned MLA Gyandev Ahuja from Ramgarh in Rajasthan after the latter stoked a controversy by saying Jawaharlal Nehru University (JNU) was a hub of immoral activities.
Shah has asked the Rajasthan MLA to come to Delhi and explain his remarks.
The MLA reportedly said Monday JNU was a hub of sex and drugs.
"In JNU daily you find 3,000 beer cans and bottles, 2,000 Indian liquor bottles, 10,000 cigarette butts, 4,000 beedis, 50,000 bone pieces, 2,000 wrappers of chips, 3,000 used condoms and 500 abortion injections," Ahuja had reportedly said at a protest held against JNU students in his constituency, Ramgarh, in the Alwar district of Rajasthan.
"Condoms are used for committing misdeeds with our sisters and daughters and drugs are taken on the campus after 8 p.m.", the New India Express quoted him as saying. He also reportedly said cultural programmes are held there in which boys and girls dance naked.
The BJP MLA further said: "Students are mostly found taking drugs after 8 p.m inside the campus. Those studying in JNU are not children, many are even parents of two children. They indulge in peace protests in the morning and during the night, they perform obscene dances."
The 63-year-old lawmaker, who, according to the official website of the Rajasthan Assembly, was a college dropout, is known for his intemperate comments, NDTV reports.
The MLA's comments have embarrassed the BJP, which is already facing the anger of JNU students and Opposition parties after JNU students' union president Kanhaiya Kumar was arrested on charges of sedition.
Ahuja's comments have invited hilarious reactions on social media, with the hashtag #BJPCountsCondoms trending on Twitter and Facebook.
Chanakya Neeti and #BJPcountsCondoms - Quote of the Day. pic.twitter.com/yqnwk0wG3V

— Jairaj P (@jairajp) February 24, 2016
JNU students drink and use condoms: BJP's Gyan Dev Ahuja. ROFL! Looks like "anti-nationals" have all the fun! #BJPCountsCondoms — Sagarika Ghose (@sagarikaghose) February 23, 2016
#BJPCountsCondoms not knowing what else to do with them

— Hartosh Singh Bal (@HartoshSinghBal) February 23, 2016
Patriotic Maths Problem: If 8032 students use 3000 condoms how many obscene dancers are newborn children? #BJPCountsCondoms — shiv ramdas (@nameshiv) February 24, 2016