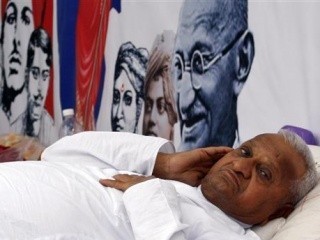 Bharatiya Janata Party (BJP) on Thursday criticised Aam Aadmi Party (AAP) leader Arvind Kejriwal for calling off his meeting with anti-graft activist Anna Hazare on the third day of his indefinite fast.
Hinting at a commendable debut by Kejriwal-led AAP in Delhi assembly polls, Kirti Azad told ANI, "Anna Hazare is unwell and Mr.Kejriwal is not going? Maybe because he has won elections and thinks highly of himself."
On Tuesday, Kejriwal said he will join the audience at Ralegan Siddhi village in Maharashtra where Hazare is holding his hunger strike until the Jan Lokpal Bill is passed during the current Winter Session of Parliament.
However, he cancelled his meeting with Hazare owing to ill health."I wanted 2 go n meet Anna 2day but fell ill last nite. Running v high fever. But my heart is at Ralegan," he posted on his Twitter handle. He also said that he would instead talk to Anna, his mentor during the anti-corruption movement in 2011, on phone.
Kejriwal's colleague and AAP leader Kumar Vishwas said, "Gopal Rai, Sanjay Singh and I are going to meet Anna today."
Hazare began his indefinite fast on 10 December against what he calls as the 'betrayal' of the Centre for shunning the anti-corruption Lokpal Bill since it was cleared by Lok Sabha, but flopped in Rajya Sabha last year.
Parliamentary Affairs Minister Kamal Nath declared that the Bill is indeed a priority for the UPA government in the ongoing session but there were no plans for an adjournment sine die.
"Our priority is the passing of Lokpal Bill which will be taken up in Rajya Sabha and then in Lok Sabha, no plans of sine die," he said.
On Wednesday, Anna was joined by social activists Medha Patker and former IPS officer Kiran Bedi in his hunger strike.