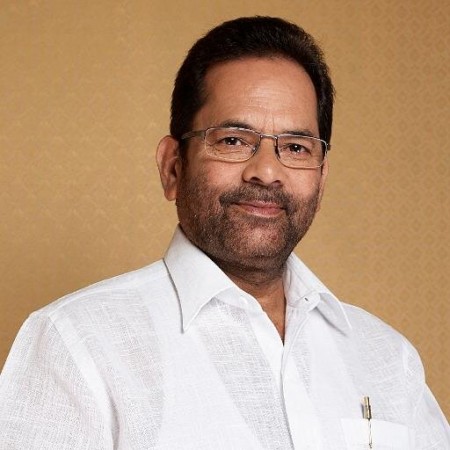 BJP Vice President Mukhtar Abbas Naqvi has denied asking UPA appointed governors to resign, although the Union Home Secretary Anil Goswami telephoned them demanding their resignations.
"No governor has been asked to resign. The way the Congress party is trying to politicise the issue is not in good taste," Naqvi told Zee News .
Goswami telephoned many UPA regime governors and asked them to quit according to news reports. Uttar Pradesh governor B L Joshi and Chhattisgarh governor Shekhar Dutt resigned after this. However, Dutt was never pressurized to quit, news reports suggest.
The governors being asked to resign by the NDA has created controversy. Meanwhile, Sheila Dikhshit and K Sankaranarayanan, governors of Kerala and Maharashtra, have refused to quit without written orders.
Governors HR Bhardwaj of Karnataka, Kamla Beniwal of Gujarat, and Margaret Alva of Rajasthan have also been asked to quit, according to Zeenews.
The governors should resign on their own, as they were not appointed on merit, according to BJP leader Rajnath Singh .
The BJP may give nod to CBI investigations against those allegedly involved in scams after many governors have refused to resign.
"They should resign from their posts before this happens to keep intact the dignity of their high office... or the government may have to intervene," a senior home ministry official told Economic Times.
The inquiry against the governors M K Narayana of West Bengal and B V Wanchoo of Goa in the AgustaWestland scam will begin soon. By the end of June, CBI will send a team of officials to question both the governors.
"The investigation in the AgustaWestland scam cannot be stalled any further. The questioning will happen by the end of this month. We are questioning the governors as witnesses and do not need any permission from the government," ET quoted CBI Director Ranjit Sinha.
However, Dikhshit allegedly involved in the Delhi Jal Board scam does not have to appear for such inquiries. "We have no material against the then chief minister. The investigation is still on," Sinha told ET.
The interrogations are not a political vendatta and CBI officials confirmed that they are in no way involved in "any dirty games."