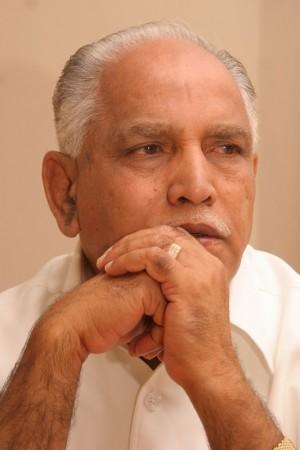 Former Karnataka chief minister and BJP leader Yeddyurappa will attend the second day of the national executive meet in Mumbai on Friday.
Yeddyurappa, who was reportedly angry and upset over Chief Minister Sadananda Gowda and the BJP party over the lack of support shown to him following a slew of charges against him, initially decided not to attend the meeting.
While speaking to reporters on Thursday, he said he could not attend the national executive meet due to a court hearing on some cases filed against him in the Lokayukta court, but later seemed to have changed his stance.
As he left Bangalore for Mumbai, he said that he was going to congratulate BJP president Nitin Gadkari for his second term. "People of Karnataka, have great respect for Gadkariji and he has stood by me like a rock so I'm going to congratulate him," he said according to NDTV.
On Thursday, the party leaders have accepted to amend their constitution in order to elect Nitin Gadkari as the party President for the second term. Currently, the party's constitution doesn't allow the president to serve three years and there is no provision to re-elect the person for the second term.
Yeddyurappa and his seven loyal ministers had earlier threatened to quit the party demanding the resignation of the current Karnataka chief minister Sadananda Gowda. Yeddyurappa wanted a person from his Lingayat community to be elected as the chief minister.
But top BJP leaders refused to remove Gowda following which Yeddyurappa threatened to quit but later changed his stance saying his supporters did not want him to quit.
Meanwhile, Gujarat chief minister Narendra Modi, who had also decided to boycott the meeting, has finally arrived in Mumbai to attend the meeting. Modi had initially planned not to attend the meeting citing the presence of his rival Sanjay Joshi. But after Joshi resigned from the BJP national executive on Thursday, Modi decided to attend the meet. Modi will share the stage with his other rival Gadkari on Friday.