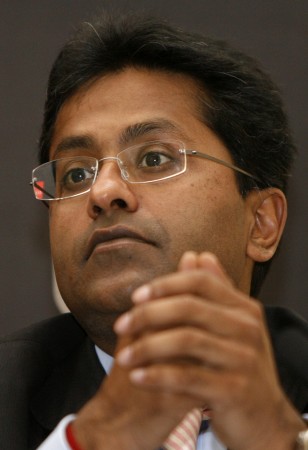 BJP parliamentarian RK Singh on Tuesday called former IPL chief Lalit Modi a "fugitive" and said helping him was "legally and morally wrong".
Although he did not mention the names of the two BJP leaders who were dragged into the controversy recently, it was evident that he was hinting at two top party leaders, External Affairs Minister Sushma Swaraj and Rajasthan Chief Minister Vasundhara Raje, who have been accused of helping Modi in securing British travel papers to visit Portugal.
"If anybody helps a 'bhagoda' (fugitive), it is wrong... This is wrong legally as well as morally. If anybody meets a fugitive, it is absolutely wrong. Whosoever has helped him, I think it is completely wrong," PTI quoted the former Union home secretary as saying at a press conference in New Delhi.
Modi, the tainted former Indian cricket Premier League (IPL) commissioner, is facing a probe by Enforcement Directorate (ED) and to avoid it he had moved to London in 2010.
Singh urged the government to bring Modi back to India to ensure investigations into the allegations against him. "All measures should be taken to bring him back to India so that he faces the law," Singh said.
Both Swaraj and Raje have been facing strong criticism from the opposition parties for extending help to Modi in obtaining visa and other documents to travel to Portugal for his wife's surgery in August 2014.