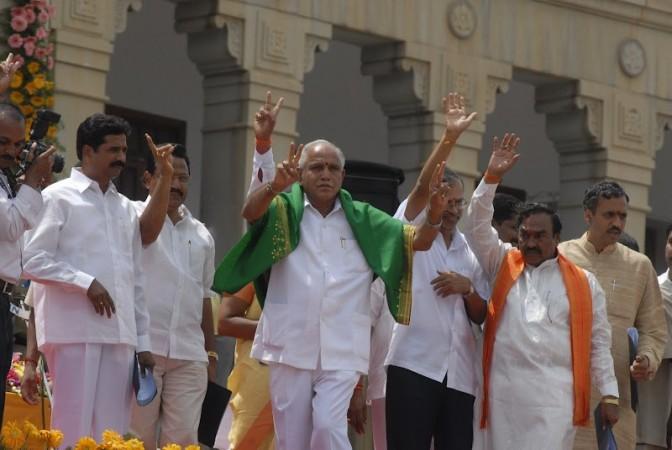 The Bharatiya Janata Party (BJP) is leaving no stone unturned in its attempt to regain its only bastion in South India, and is now looking to bring back former member BS Yeddyurappa.
The party's national president Rajnath Singh on Monday met former member and ex-Karnataka chief minister Yeddyurappa in Shimoga to discuss on the latter re-joining BJP. Yeddyurappa had defected from the BJP to form Karnataka Janata Party soon after he was replaced by Jagadish Shettar as chief minister of the state.
The visit was scheduled after BJP's prime ministerial candidate Narendra Modi pushed the central leadership to bring back the popular lingayat leader.
"I told Mr Modi that the state unit was keen that Yeddyurappa be brought back into the party. He said he will talk to the party chief Rajnath Singh to expedite the process," said Prahlad Joshi, state party president as quoted by Economic Times. He had met Modi last week to urge the centre to hasten the process of bringing back the defected leader.
Yeddyurappa has been one of the leaders who have been instrumental in the growth of BJP's popularity in Karnataka. The party's fallout with HD Kumaraswamy of Janata Dal-Secular (JDS), during the coalition government of BJP and JDS in 2006, resulted in BJP's rule in Karnataka led by Yeddyurappa in 2008. This was the first time BJP had come to power in a South Indian state and Yeddyurappa was the blue-eyed boy who had achieved it.
However, fights within the party leadership resulted in Yeddyurappa stepping down as chief minister, defecting from the party and form his own Karnataka Janata Party in April 2011. The Power-hungry Yeddyurappa is also said to have caused discomfort to the national leaders during his fight to remain the Chief Minister of Karnataka.
With the 2014 elections in the offing, Karnataka is seen as one of the crucial states for BJP, and Modi and Rajnath Singh are both understood to be in favour of Yeddyurappa rejoining the party.
Soon after the meeting Rajnath Singh said that a final decision would be announced after another round of discussions in New Delhi. Meanwhile, Yeddyurappa has remained tight-lipped on these developments. "I do understand your (media persons) excitement. But, we did not discuss any political issue here. Wait for another four to five days. You will get the good news," he said as quoted by the Deccan Herald.