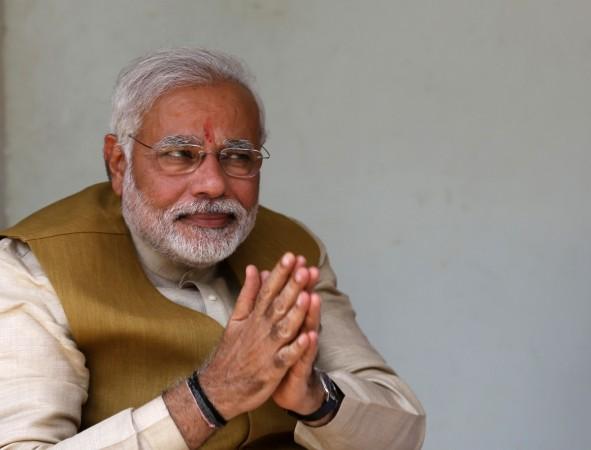 India's new Prime Minister designate Narendra Modi met Lal Krishna Advani, senior leader of Bharatiya Janata Party (BJP), in Delhi on Sunday, to discuss the formation of National Democratic Alliance's (NDA) next government.
The victorious BJP, which got a 283-member majority strength in Lok Sabha in this year's general elections, will elect Modi as its leader on 20 May. The NDA's meeting on the same day will decide a date for Modi's anointment as the country's next PM.
Besides Advani, Modi was seen holding discussions with several party leaders in Delhi. To finalise his cabinet of ministers, Modi was expected to meet party president Rajnath Singh.
Later in the day, the next Prime Minister of India was to meet Rashtriya Swayamsevak Sangh (RSS) chief Mohan Bhagwat. For BJP, RSS is the ideological organisation, where Modi started his initial years as a campaigner before joining BJP.
The BJP leaders who are camping in Delhi, to hold meetings to decide the further course of action to form the party's next government at the Centre are: Rajasthan Chief Minister Vasundhara Raje, Nagaland Chief Mnister Neiphiu Rio, BS Yeddyurappa and HN Ananthakumar from Karnataka (where the party has won 17 seats out of 28), BJP General Secretary Dharmendra Pradhan from Bihar (where the party has won 31 Lok Sabha seats), Modi's close aide Amit Shah, former BJP president M Venkaiah Naidu and others.
Media reports claim Modi will resign as Gujarat Chief Minister on 21 May, the day he will be elected as BJP's new leader to lead the NDA government at the Centre. Anandiben Patel, a senior minister in Modi's Gujarat government, is likely to be made the next CM of the state.
Meanwhile, Bihar Chief Minister and JD(U) leader Nitish Kumar, who strongly opposed Modi becoming the Prime Minister, resigned to his post on Saturday, accepting moral responsibility after his party was wiped out in the state.