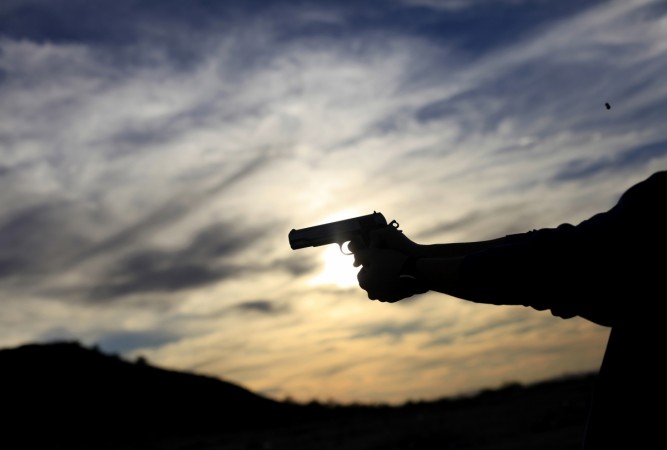 Unidentified assailants on Thursday evening opened fire on Bharatiya Janata Party (BJP) leader Brijpal Teotia's convoy at Muradnagar in Ghaziabad, on the outskirts of Delhi. Three people, including a woman, have been detained by the police for questioning.
The police has also recovered the car that was used by the gunmen while a forensic team is already at the spot, Daljit Chaudhary, the Additional Director General of Police, Law and Order, was quoted by ANI as saying. He added that personal enmity may be the cause of the attack on Teotia.
Teotia's condition is serious after at least 100 rounds were fired at his convoy using AK-47 rifles. The 49-year-old leader, and five others who were injured in the firing, were rushed to the hospital.
"Teotia and his associates were travelling in two Scorpios when another vehicle overtook them. The assailants, who were inside the vehicle, started firing indiscriminately. Three or four men travelling with Teotia have also sustained bullet injuries," KS Emmanuel, Ghaziabad's Senior Superintendent of Police, was quoted by the Indian Express as saying. "They are undergoing treatment at Sarvodaya Hospital in Ghaziabad. The hospital has referred Teotia to Fortis Hospital in Noida for further treatment. We are conducting raids in the area," he added. The incident took place around 7:30 p.m. on Ravali Road when Teotia was returning from a function in Muradnagar.
Teotia suffered multiple bullet injuries, including one on his shoulder and others on his torso and limbs. Two of his men are also in critical condition.
The attackers managed to escape. "Rifles, AK 47 have been used in the attack... We are trying to arrest the culprits. Weapons used in the attack have been recovered," Daljeet Chaudhary, the Additional Director General of Police, was quoted by NDTV as saying.
The police believe that the gunmen were waiting for Teotia's convoy to arrive at a particular point before they started firing.
"It is possible that the attackers were waiting for the BJP leader's car... the boot of their car was open and two men were sitting in it. When they saw Teotia's car approach, they started firing. Preliminary investigations reveal that AK-47s were used by the attackers," SSP Emmanuel said.
Senior police officials of Uttar Pradesh have rushed to Ghaziabad while a few BJP members visited Fortis hospital to enquire about Teotia's condition.