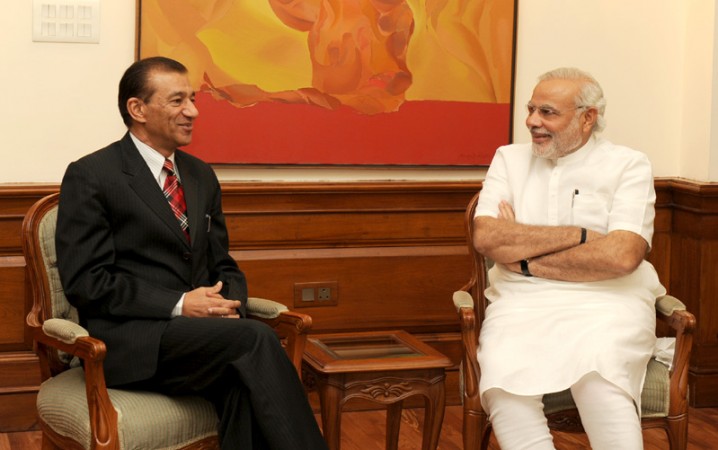 After pushing for the resignation of several UPA-appointed governors ever since it came to power, the NDA-government has finalised the names of at least five governors who are likely to be appointed in states including Uttar Pradesh, Gujarat and Karnataka.
The names of former petroleum minister Ram Naik, former Uttar Pradesh Speaker Kesri Nath Tripathi, former Bhopal MP Kailash Joshi and senior BJP leaders from Delhi and Punjab, VK Malhotra and Balaram Das Tandon, have been suggested for appointment as governors, according to the Press Trust of India.
The Home Ministry is reported to have submitted these names to the Rashtrapati Bhawan, and the President is likely to officially name the governors soon.
The BJP leaders have already been informed of the decision, which is said to have been formalised between Prime Minister Narendra Modi and Home Minister Rajnath Singh.
"I was asked by my party to accept the position of the Governor of UP and I said yes. It is a challenging job and I am accustomed to doing challenging jobs," PTI quoted Naik, who is expected to replace Joshi in Uttar Pradesh.
The ruling Bharatiya Janata Party's efforts to remove governors appointed by the previous government has attracted criticism, and five governors resigned in the process, namely Uttar Pradesh's BL Joshi, West Bengal's MK Narayan, Chattisgarh's Shekhar Dutt, Nagaland's Ashwani Kumar and Goa's BV Wanchoo. Several who have resisted the ruling government's pressure are Kerala Governor Sheila Dikshit and Maharashtra's K Sankaranarayan.
However, their transfers are on the cards, sources from the ministry told PTI. Gujarat Governor Kamala Beniwal has already been transferred to Mizoram.
According to PTI, other names of BJP leaders are also being thrown up as the government will move to replace some other governors. Some of the leaders likely to be named as governors include Lucknow MP Lalji Tandon, former Union Minister from Kerala O Rajagopal, BJP leader from Himachal Pradesh Shanta Kumar, as well as that of former Attorney General Soli Sorabjee.
While BJP's crackdown on UPA governors is being criticised, the former government had taken a similar approach after coming to power in 2004. After a BJP Member of Parliament moved the Supreme Court over the issue, the top court had ruled that governors could not be removed "in an arbitrary and capricious manner with the change of power," as per an NDTV report.