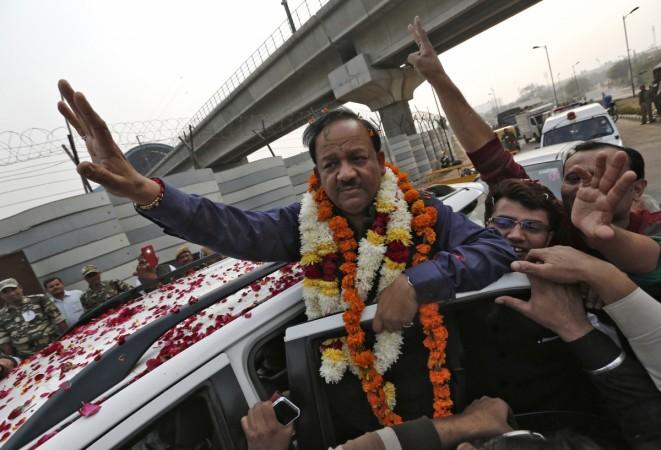 The Bharatiya Janata Party may soon come to power in the capital just months after forming the government at the centre, as Lieutenant Governor Najeeb Jung has reportedly written to the President on the formation of the government.
Jung has sought President Pranab Mukherjee's nod to invite the single largest party to form government in Delhi, The Times of India reported. The BJP is the single largest party in Delhi with 29 MLAs, which includes one from Shiromani Akali Dal. The President has reportedly forwarded the letter to the Home Ministry.
"We received the report this evening and have sent it to the ministry of home affairs for its view," an official from Rashtrapati Bhavan told TOI.
Delhi has been under the President's rule since February, ever since Aam Aadmi Party convenor Arvind Kejriwal stepped down after just 49 days as the Chief Minister. AAP had come to power with support from Congress that had fared miserably with only eight seats in the assembly elections.
The Aam Aadmi Party is, however, demanding fresh elections to make the next government in Delhi and has also approached the Supreme Court on the issue. The hearing is likely to be conducted on 9 September, as per reports.
If the President does approve that the single largest party can come to power, BJP will have to touch the magic number of 35 seats in the Legislative Assembly, which it had just fallen short of in the elections held last December.
Speculations have been rife for a long time about the BJP approaching some members of the Aam Aadmi Party, especially those who have left the party, to help them form the government.
With Harsh Vardhan, now Health Minister in the Union government, also set to resign from the Delhi assembly, it might be a tough task for BJP to touch the figure.
Delhi BJP chief Satish Upadhyay told the media that the party will analyze the situation if the LG asks it to form the government.
AAP and Congress leaders have slammed the move following reports of the LG clearing the way for BJP.
AAP leader Prashant Bhushan told NDTV that the LG's move could lead to defection.
"Both AAP and COngress have made their positions clear that they will not support the BJP. Then for the LG to still invite BJP to form government, means that you are encouraging defection," he said.