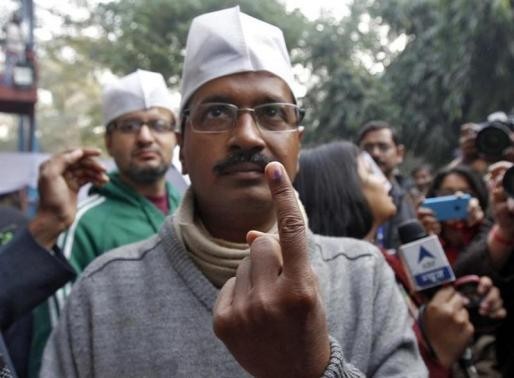 The Bharatiya Janata Party, which had to concede the Delhi government to Arvind Kejriwal's Aam Aadmi Party after the Assembly elections held last December, now reportedly wants to form the state government, most likely with support from defectors from AAP and Congress.
According to reports, several legislators of the two parties have reached out to the BJP in a bid to support its government.
"Several MLAs from AAP will move against the party in support of the BJP to form the government. It is only in the benefit of the people of Delhi to have a stable government now and we think BJP can provide that," The Economic Times quoted an AAP MLA.
The BJP also seems to be in the mood of taking the support instead of contesting elections again. "The majority view is in favour of forming a government. Even most of the legislators do not want fresh elections," a BJP leader told The Hindustan Times.
This development comes after BJP had refused to be associated with AAP just last week, when a senior BJP leaders has said: "Neither Congress nor AAP MLAs enjoy any credibility. "Several AAP MLAs have become controversial and it is best to let the party deal with them rather than us."
AAP leaders dismissed the news of defection, with party leader Kejriwal reportedly telling a television channel that BJP was trying to contact its MLAS to break away from the party, but that would not happen.
As per the 2003 amendment to the 1985 anti-defection law, at least two thirds of the elected members of a party must be in favour of a merger, as per a legal definition highlighted The Indian Express.
Last week, the Congress had shunned AAP's ambitions of forming a government with its support, after several AAP leaders had reportedly approached the party to support them again. The capital has been without a government since February when Kejriwal quit in just 49 days of coming to power, following the non-passage of the Jan Lokpal Bill.
While Congress had supported AAP after the December elections to form the government, no bonhomie is left between the two parties, and the Congress' communications head Ajay Maken had made the stance clear through his tweet.
Even as vested AAP interests create confusion,its reiterated,@INCIndia will NOT be supporting them in Delhi for their diabolical power play.

— Ajay Maken (@ajaymaken) June 10, 2014
Even as speculations about the next Delhi government float, several BJP members have begun campaigning for the chief ministers' post, according to The Times of India. The names of Janakpuri MLA Jagdish Mukhi, Badarpur MLA Rambir Singh Bidhuri and BJP MP Meenakshi Lekhi are being circulated for the post.