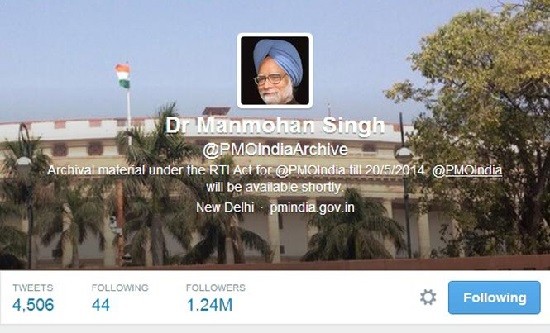 While Narendra Modi was on his way to meet the President to stake claim to the post of Prime Minister of India, the outgoing PM Manmohan Singh's office was engaged in a misadventure and raked up a controversy over archiving the PMO Twitter handle.
The Twitter handle used by Manmohan Singh, @PMOIndia was archived by his IT team as @PMOIndiaArchive on Tuesday afternoon, which means that new PM's IT team will have to start from scratch.
What got BJP really furious is the fact that @PMOIndia account used by Manmohan Singh had 1.2 million followers, which is now simply dumped with just 14K followers, at the time of writing this article. And the account looks void without any information, tweets or pictures.
The Hindustan Times reported that the decision to move Manmohan Singh's Twitter handle was made by his former official communication adviser Pankaj Pachauri. "Read the RTI Act – all communication should remain in public domain for perpetuity," Pachauri told HT. "The official account has been surrendered to Twitter and all other communication has been archived under the provisions of the RTI Act," he said.
"This gives the next administration the flexibility of choosing the same name or start with a new handle. We are being thoughtful," he added.
Prime Minister-designate Narendra Modi's IT team, however, was not impressed by this act. BJP National Spokesperson and MP Meenakshi Lekhi criticized the move as unethical and disgraceful. "Continuity in governance and all government assets is the hallmark of the Indian constitution. The Twitter account @PMOIndia is a national digital asset. It is disgraceful, unethical and illegal in the way the outgoing team handling the @PMOIndia Twitter account has conducted the transition of this national digital asset," Lekhi told a press conference.
"We hope better sense prevails and the tweets of outgoing @PMOIndia are archived according to legal procedures and a smooth transition takes place with this national digital asset, the Twitter handle of @PMOIndia which must become available to the new incoming government. @PMOIndia is not a personal asset, it is a National Asset," she added.
On Twitter too, many key figures criticized the Manmohan Singh's office for taking such as a step. Here are some Twitter reactions:
Imagine the @WhiteHouse handle cybersquatted by a random teenager in Nebraska. Can't, right? Similarly, @PMOIndia should have continuity.

— Sachin Kalbag (@SachinKalbag) May 20, 2014
It is appalling that the outgoing Government is playing foul till the last minute #Handlegate @PMOIndia — Sri Sri Ravi Shankar (@SriSri) May 20, 2014
How churlish!!! Just hand over the twitter account. It's not like Dr Manmohan Singh was actually using it himself or will use it much now.

— Omar Abdullah (@abdullah_omar) May 20, 2014