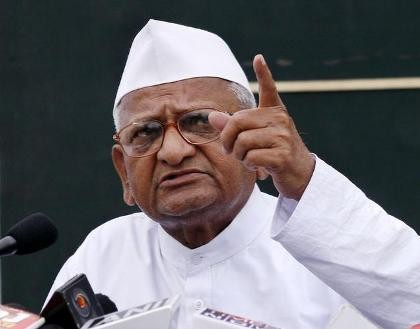 After the adjournment of Lok Shaba session on Lokpal issue, Bharatiya Janata Party (BJP) has backed the Jan Lokpal Bill but with certain amendments.
"The party has given notices in both houses of Parliament under rules which entail voting and wants the inclusion of the three conditions set out by Anna Hazare to break his fast," reports IBN Live.
BJP leader Sushma Swaraj accused the United Progressive Alliance (UPA) Government of not being serious about the debate on the Lokpal bills.
"The notice given for the debate was too short," she said.
"The Government did not get in touch with the Opposition, but it was vice versa. We got in touch with the Government to enquire about debate," said Opposition leader in the Lok Sabha Swaraj.
She also told that Parliamentary Affairs Minister Pawan Kumar Bansal told her that "government has not made up its mind about the Lokpal debate."
"The motion was supposed to be brought in by the Government. Why was it left to the members?" she asked.
Further, "At 2:10 PM I got a call that there will be a discussion on the Lokpal bills on notice given by Sandeep Dikshit. Most of the members had left for their home. It was a casual approach to such an important issue. What is the message that is being given by Government?" said Swaraj.
The party has given notice in the Lok Sabha under Rule 184 and under Rule 168 in the Rajya Sabha, both of which entail voting.
Earlier, senior BJP leader LK Advani expressed the party's stand on stronger anti-corruption legislation, "the party would lend their support to any strong, anti-corruption legislation."
"Some provisions of the Jan Lokpal bill had inherent flaws and parliament would find it difficult to pass it in its present form," added Advani Friday.
"I know what are the flaws in the provisions of the Jan Lokpal bill, due to which it will not get passed. And this, I tried to explain to them (Team Anna) yesterday," said Advani.
Meanwhile, team Anna is mounting pressure from various sections of the society to end his fast.
"I feel I am not in Team Anna any more by the way things are going. These (telling Parliament what to do) are not democratic things," said Justice Santosh Hegde.
Asking Hazare to call off his fast that entered the 11th day on Friday, Swamy Agnivesh also made it clear that any appearance of threats to Parliament is not becoming of a Gandhian.
"You do it by tomorrow or day after. This is not becoming of a Gandhian fast or a moment. So this was the right moment to call it off," said Swamy Agnivesh calling Anna's fasting as a "threat to Parliament".
Terming team Anna's as "a coterie, playing with the life" to press absurd demands editor-in-chief of Outlook Magazine, Vinod Mehta, also attacked Team Anna.
"I condemn this dangerous game they are playing in the name of people's power. All right thinking people should speak up against the coterie which is leading Anna Hazare and the nation to collision course," he said.
In view of government's decision to discuss Jan Lokpal in Parliament, "Continuation of Gandhian's fast may not appear reasonable," appealed former Chief Justice of India J S Verma to Anna Hazare to end his fast.
"In my view, there is no justification at least now for the continuance of the fast undertaken by Hazare and I appeal to him to end his fast forthwith in keeping with the national sentiments and concern for his health."
"Anna's call against corruption has taken the shape of a movement and he has made a point, but insisting on Jan Lokpal Bill is not right as the supremacy of Parliament in a democracy cannot be challenged," said Actress and social activist Shabana Azmi.