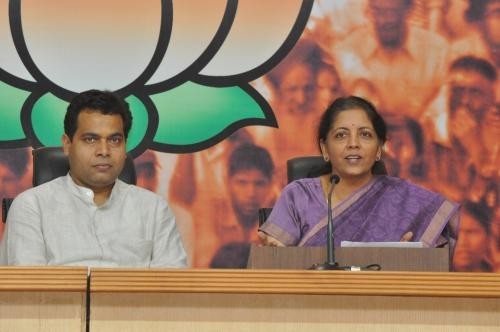 Bharatiya Janata Party (BJP) has asked the Tamil Nadu government for a probe by a Special Investigation Team (SIT) into the killing of party's General Secretary V Ramesh in the state. The BJP wing in Tamil Nadu has also called for a strike in the state as a protest on Monday.
Ramesh was allegedly attacked and murdered by unidentified assailants near his house on Friday around 10 pm.
"Ramesh's brutal killing is just one in a series of targeted killings in Tamil Nadu this year. Earlier, Dr. Arvind Reddy, state secretary, BJP Medical Cell was similarly brutally killed. So were the killings of Shri Murugan, a BJP activist and former councillor of Paramakudi, Ramanthapuram and of Pugazhendhi, BJP President in Nagapattinam," BJP spokesperson Nirmala Sitharaman said in a statement.
The 52-year-old senior BJP leader was attacked with sharp weapons and died on the spot.
The news came as a shock to the BJP election campaign chief and Gujarat Chief Minister Narendra Modi, who has demanded that the culprits be punished at the earliest. "My deepest condolences to the family of Shri V Ramesh. May his soul rest in peace. The culprits must be punished as the earliest," Modi tweeted.
The investigation on the identity and motive of the attackers is underway, police sources told PTI. Ramesh was a chartered accountant by profession and served in the BJP since 1991. He was the general secretary and a member of the Tamil Nadu BJP's core committee. A couple of years ago, Ramesh had contested for the mayor elections in Salem but lost.
Meanwhile, BJP leader in Tamil Nadu, Pon Radhakrishnan announced, "The party has called for a state wide general strike on Monday," he told IANS.
"This dangerous drift towards political attacks and killings should be stopped instantly. The Tamil Nadu government should set up a high level Special Investigation Team to thoroughly investigate each one these attacks. Anti-national and unlawful elements cannot be allowed to disturb the law and order situation in an otherwise peaceful state," Sitharaman added.