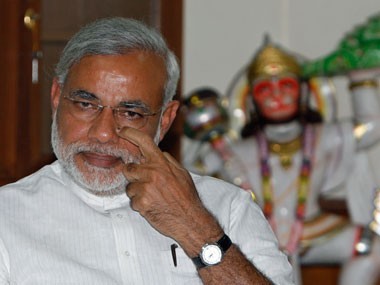 The Bharatiya Janata Party (BJP) on Sunday announced the new team of parliamentary board members who will lead the party in the 2014 Lok Sabha elections.
Gujarat chief minister Narendra Modi has been inducted into BJP's parliamentary board, after a six-year hiatus. Modi is the only chief minister included in the 11-member parliamentary board. His elevation ensures that he will play a key role in taking party decisions.
Before the team was announced, BJP President Rajnath Singh met LK Advani early on Sunday morning to discuss about the final list. The list has been prepared with key participation from Rashtriya Swayamsevak Sangh (or RSS) which played a significant role in choosing Singh as the BJP's president, after Nitin Gadkari was forced to resign following charges of corruption.
Uma bharti, Smriti Irani, Balbir Punj, Mukhtar abbas naqvi, former Karnataka chief minister Sadananda Gowda, CP Thakur, Jual Urao, SS Ahluwalia, Satpal Malik, Prabhat Jha, Bijyo Chakravarti, Lakxmikanta Chawla and Kiran Maheshwari have been appointed as the party's vice presidents.
Modi's close aide Amit Shah, Varun Gandhi, Rajiv Pratap Rudy, JP Naddha, Murlidhar Rao, Ananth Kumar, Thawarchand Gehlot, Dharmendra Pradhan, Tapir Gaon and Ramlal have been made general secretaries.
Saroj Pandey replaces Smriti Irani as the head of the BJP's women's wing - Mahila Morcha. Anurag Thakur has been retained as Yuka Morcha chief. Sanjay Paswan will be the chief of SC Morcha, Faggan Singh Kulaste is the President of ST Morcha, Abdul Rashid for Minority Morcha and Om Prakash Dhankar for Kisan Morcha.
Senior party leader from Jharkhand Yashwant Sinha and Madhya Pradesh Chief Minister Shivraj Singh Chauhan have failed to make it to the parliamentary board.
To look at the entire list, click here.