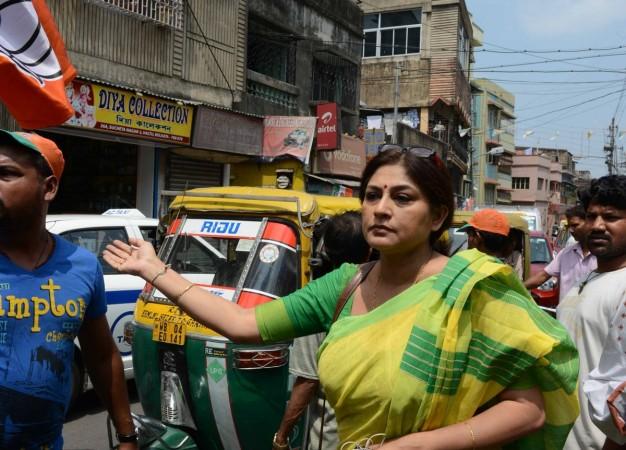 The Bharatiya Janata Party (BJP) announced Thursday a second list of its candidates for the West Bengal Assembly elections, scheduled to start April 4. The list of 194 candidates includes the party's former West Bengal unit chief Rahul Sinha and actress Rupa Ganguly.
The BJP announced the list after a meeting of the party's Central Election Committee (CEC), led by party president Amit Shah. The meeting was attended by Prime Minister Narendra Modi, Minister of Home Affairs Rajnath Singh, Minister of Finance Arun Jaitley and members of the CEC, a BJP release said.
Ganguly, who is the chief of the BJP's West Bengal women's wing, will contest from Howrah Uttar (North), and Sinha from Jorasanko in Kolkata.
The party has so far announced candidates for 246 of the 294 seats in the West Bengal Assembly. "The party had before announced the first list of 52 candidates. The second list has candidates from all sections of the society," Union Health Minister and BJP CEC Secretary JP Nadda said.
"Majority of the candidates announced so far are youngsters, besides 26 women," he added.
Voting in West Bengal will be held in six phases. The first phase will be held on two days — April 4 and 11 — and the rest five will be April 17, 21, 25 and 30, and May 5. The result will be announced May 19.
Commenting on the list of BJP candidates for Kerala Assembly elections, Nadda said the BJP's CEC has confirmed the list but it will be released after "some formalities" are completed. Kerala will vote May 16.
Here is the list of 194 candidates of the BJP (Source: BJP Release):
| | | | |
| --- | --- | --- | --- |
| Sl. | AC No. | AC Name | Name of Candidate |
| 1. | 1 | Mekliganj | Dodhiram Roy |
| 2. | 2 | Mathabhanga | Sushil Barman |
| 3. | 4 | Cooch Behar (Dakshin) | Nikhil Ranjan Dey |
| 4. | 5 | Sitalkuchi | Barenchandra Barman |
| 5. | 6 | Sitai | Bhaben Chandra Roy |
| 6. | 9 | Tufanganj | Bibhash Sen Ishore |
| 7. | 12 | Alipurduars | Kushal Chatterjee |
| 8. | 13 | Falakata | Narayan Chandra Mondol |
| 9. | 15 | Dhupguri | Agun Roy |
| 10. | 16 | Maynaguri | Biswajit Roy |
| 11. | 17 | Jalpaiguri | Tapan Roy |
| 12. | 21 | Nagrakata | John Berla |
| 13. | 29 | Islampur, Uttar Dinajpur | Dr. Soumarup Mandol |
| 14. | 30 | Goalpokhar | Debasish Sarkar |
| 15. | 31 | Chakulia | Ashim Mirdha |
| 16. | 32 | Karandighi | Abdul Jalil |
| 17. | 33 | Hemtabad | Bhanu Ram Barman |
| 18. | 35 | Raiganj | Pradeep Kumar Sarkar |
| 19. | 36 | Itahar | Unish Haque |
| 20. | 37 | Kushmandi | Ranjit Roy |
| 21. | 39 | Balurghat | Goutam Chakroborty |
| 22. | 41 | Gangarampur | Sanatan Karmakar |
| 23. | 42 | Harirampur | Phanibhusan Mahato |
| 24. | 44 | Gazole | Sudhanshu Sarkar |
| 25. | 45 | Chanchal | Dipankar Ram |
| 26. | 46 | Harishchandrapur | Showerial Kedia |
| 27. | 47 | Malatipur | Soumitra Sarkar |
| 28. | 48 | Ratua | Sanjoy Kumar Saha |
| 29. | 49 | Manikchak | Sibendu Sekhar Roy |
| 30. | 50 | Maldah | Gopal Ch. Saha |
| 31. | 51 | English Bazar | Suman Banerjee |
| 32. | 52 | Mothabari | Shyam Chand Ghosh |
| 33. | 53 | Sujapur | Nandan Kumar Ghosh |
| 34. | 54 | Baisnabnagar | Swadhin Sarkar |
| 35. | 55 | Farakka | Indranath Upadhyay |
| 36. | 56 | Samserganj | Milan Ghosh |
| 37. | 57 | Suti | Samrat Ghosh |
| 38. | 58 | Jangipur | Sudhan Das |
| 39. | 59 | Raghunathganj | Gulam Modassar (Bapi) |
| 40. | 60 | Sagardighi | Debsharan Ghosh |
| 41. | 61 | Lalgola | Amar Kumar Das |
| 42. | 63 | Raninagar | Prabir Basak |
| 43. | 64 | Murshidabad | Gouri Sankar Ghosh |
| 44. | 65 | Nabagram | Susanta Marjit |
| 45. | 66 | Khargram | Sumata Mondal |
| 46. | 67 | Burwan | Amiya Kumar Das |
| 47. | 68 | Kandi | Binoy Bhusan Das |
| 48. | 69 | Bharatpur | Imon Kalyan Mukharjee |
| 49. | 70 | Rejinagar | Bankim Karmakar |
| 50. | 71 | Beldanga | Alok Ghosh |
| 51. | 73 | Hariharpara | Tulsi Prasad Sukul |
| 52. | 74 | Nowda | Smt. Indrani Mukharjee |
| 53. | 75 | Domkal | Nandadulal Pal |
| 54. | 76 | Jalangi | Chandan Mondal |
| 55. | 78 | Tehatta | Arjun Kumar Biswas |
| 56. | 79 | Palashipara | Bibhash Chandra Mondal |
| 57. | 80 | Kaliganj | Saikat Sarkar |
| 58. | 82 | Chapra | Suthirtha Chakroborty |
| 59. | 84 | Nabadwip | Goutam Pal |
| 60. | 85 | Krishnanagar Dakshin | Mahadev Sarkar |
| 61. | 86 | Santipur | Swapan Das |
| 62. | 87 | Ranaghat Uttar Paschim | Anal Biswas |
| 63. | 89 | Ranaghat Uttar Purba | Nikhil Chandra Sarkar |
| 64. | 90 | Ranaghat Dakshin | Susmit Ranjan Halder |
| 65. | 91 | Chakdaha | Pradip Kumar Sarkar |
| 66. | 92 | Kalyani | Dr. Ranjit Kumar Biswas |
| 67. | 93 | Haringhata | Suresh Sikder |
| 68. | 95 | Bangaon Uttar | K. D. Biswas |
| 69. | 96 | Bangaon Dakshin | Swapan Majumder |
| 70. | 101 | Ashoknagar | Smt. Tanuja Chakroborty |
| 71. | 103 | Bijpur | Smt. Alo Rani Sarkar |
| 72. | 104 | Naihati | Smt. Phalguni Patra |
| 73. | 105 | Bhatpara | R. K Handa |
| 74. | 106 | Jagatdal | Arun Kumar Brahma |
| 75. | 107 | Noapara | Amiya Sarkar |
| 76. | 108 | Barrackpur | Amitabh Roy |
| 77. | 109 | Khardaha | Mahadev Basak |
| 78. | 110 | Dum Dum Uttar | Tapan Chandra Das |
| 79. | 111 | Panihati | Dipak Kumar Kundu |
| 80. | 112 | Kamarhati | Krishanu Mirta |
| 81. | 114 | Dum Dum | Smt. Uma Das Singha |
| 82. | 115 | Rajarhat New Town | Smt. Nupur Ghosh Banerjee |
| 83. | 116 | Bidhannagar | Sushanta Ranjan Pal |
| 84. | 117 | Rajarhat Gopalpur | Dilip Mitra |
| 85. | 118 | Madhyamgram | Debashis Mitra |
| 86. | 119 | Barasat | Smt. Bithika Mondal |
| 87. | 120 | Deganga | Tarun Kanti Ghosh |
| 88. | 121 | Haroa | Manmatha Bachhar |
| 89. | 122 | Minakhan | Jayanto Mondal |
| 90. | 125 | Basirhat Uttar | Tarfan Ali Gazzi |
| 91. | 126 | Hingalganj | Labanya Mandol |
| 92. | 127 | Gosaba | Sanjoy Kumar Nayak |
| 93. | 129 | Kultali | Bikram Naskar |
| 94. | 130 | Patharpratima | Dr. Sridhar Chadra Bagari |
| 95. | 131 | Kakdwip | Kaushik Das |
| 96. | 132 | Sagar | Smt. Sarbari Mukharjee |
| 97. | 133 | Kulpi | Swapan Kumar Halder |
| 98. | 134 | Raidighi | Smt. Sanghamitra Chowdhury |
| 99. | 135 | Mandirbazar | Smt. Adv. Chhandita Majumder |
| 100. | 136 | Jaynagar | Utpal Kumar Mondal |
| 101. | 137 | Baruipur Purba | Amulya Kumar Naskar |
| 102. | 138 | Canning Paschim | Manojit Mandol |
| 103. | 139 | Canning Purba | Sudarshan Goswami |
| 104. | 140 | Baruipur Paschim | Smt. Basab Dutta Banerjee (Bhattacharya) |
| 105. | 141 | Magrahat Purba | Chandan Kumar Naskar |
| 106. | 142 | Magrahat Paschim | Subhas Mandol |
| 107. | 143 | Diamond Harbour | Smt. Krishna Baidya |
| 108. | 144 | Falta | Amarendra Nath Mukharjee |
| 109. | 146 | Bishnupur, South 24 Parganas | Sekhar Naskar |
| 110. | 147 | Sonarpur Dakshin | Prof. Manoranjan Joarddar |
| 111. | 148 | Bhangar | Abani Kumar Mandol |
| 112. | 149 | Kasba | Bikash Debnath |
| 113. | 150 | Jadavpur | Swarup Prasad Ghosh |
| 114. | 151 | Sonarpur Uttar | Satyabrata Dutta |
| 115. | 152 | Tollyganj | Bibekananda Sinha Roy |
| 116. | 154 | Behala Paschim | Hari Krishna Dutta |
| 117. | 155 | Maheshtala | Kartik Chandra Ghosh |
| 118. | 156 | Budge Budge | Uma Sankar Ghosh Dastidar |
| 119. | 157 | Metiaburuz | Sanjoy Singh |
| 120. | 158 | Kolkata Port | Abodh Kishore Gupta |
| 121. | 160 | Rashbehari | Samir Kumar Banerjee |
| 122. | 162 | Chowranghee | Ritesh Tiwari |
| 123. | 163 | Entally | Sudhir Pandey |
| 124. | 164 | Beleghata | Partha Chowdhury |
| 125. | 165 | Jorasanko | Rahul Sinha |
| 126. | 166 | Shyampukur | Som Mondal |
| 127. | 167 | Maniktala | Sunil Roy |
| 128. | 168 | Kashipur Belgachhia | Aditya Tandon |
| 129. | 169 | Bally | Kaushik Chakborty |
| 130. | 170 | Howrah Uttar | Smt. Rupa Ganguly |
| 131. | 171 | Howrah Madhya | Sanjoy Singh |
| 132. | 172 | Shibpur | Ram Prasad Bhattacharjee |
| 133. | 173 | Howrah Dakshin | Smt. Sahana Guha Roy |
| 134. | 175 | Panchla | Bhabani Prasad Roy |
| 135. | 176 | Uluberia Purba | Smt. Papiya Mandol |
| 136. | 177 | Uluberia Uttar | Tapas Khamrui |
| 137. | 178 | Uluberia Dakshin | Somnath Sadhukhan |
| 138. | 179 | Shyampur | Smt. Mousumi Biswas |
| 139. | 181 | Amta | Dr. Suman Sarkar |
| 140. | 182 | Udaynarayanpur | Bholanath Sapui |
| 141. | 183 | Jagatballavpur | Kaushik Mukharjee |
| 142. | 184 | Domjur | Jayanta Das |
| 143. | 185 | Uttarpara | Smt. Krishna Bhattarcharya |
| 144. | 187 | Champdani | Rajkumari Kesri |
| 145. | 188 | Singur | Suren Patra |
| 146. | 190 | Chunchura | Smt. Champa Chakroborty |
| 147. | 191 | Balagarh | Subhash Chandra Halder |
| 148. | 192 | Pandua | Ashok Bhattacharya |
| 149. | 193 | Saptagram | Susanta Sengupta |
| 150. | 194 | Chanditala | Sudipto Chatterjee |
| 151. | 195 | Jangipara | Pasenjit Bag |
| 152. | 196 | Haripal | Ramkrishna Pal |
| 153. | 199 | Pursurah | Subhendu Mukharjee |
| 154. | 200 | Arambag | Murari Bera |
| 155. | 201 | Goghat | Basan Roy |
| 156. | 202 | Khanakul | Bikash Ch. Dolui |
| 157. | 203 | Tamluk | Biswanath Das |
| 158. | 204 | Panskura Purba | Smt. Aparna Laskar |
| 159. | 205 | Panskura Paschim | Bishnupada Kuity |
| 160. | 206 | Moyna | Dr. Sukesh Das |
| 161. | 207 | Nandakumar | Nilanjan Adhikari |
| 162. | 208 | Mahisadal | Prasenjit Samanto |
| 163. | 210 | Nandigram | Bijan Kumar Das |
| 164. | 213 | Kanthi Uttar | Ashim Das |
| 165. | 214 | Bhagabanpur | Prasanta Panda |
| 166. | 215 | Khejuri | Swadesh Patra |
| 167. | 216 | Kanthi Dakshin | Prof. Kamalesh Misra |
| 168. | 217 | Ramnagar, Purba Medinipur | Tapan Kar |
| 169. | 218 | Egra | Smt. Minati Sur |
| 170. | 223 | Keshiary (ST) | Binod Bihari Murmu |
| 171. | 242 | Purulia | Nagendra Nath Ojha |
| 172. | 245 | Para (SC) | Nadiar Chand Bouri |
| 173. | 253 | Barjora | Sujit Agasti |
| 174. | 259 | Khandakhosh | Ashok Santra |
| 175. | 261 | Raina | Kasi Patra |
| 176. | 262 | Jamalpur | Pallab Kumar Roy |
| 177. | 263 | Manteswar | Biswajit Poddar |
| 178. | 264 | Kalna | Newton Majumder |
| 179. | 265 | Memari | Adv. Bishadev Bhattacharya |
| 180. | 266 | Bardhaman Uttar | Prasanta Saha |
| 181. | 268 | Purbasthali Dakshin | Rajib Bhowmik |
| 182. | 269 | Purbasthali Uttar | Swapan Bhattcharjee |
| 183. | 270 | Katwa | Anil Dutta |
| 184. | 271 | Ketugram | Banku Bihari Ghosh |
| 185. | 272 | Mangalkot | Gopal Chattppadhyay |
| 186. | 273 | Ausgram | Sanatan Majhi |
| 187. | 274 | Galsi | Sundar Paswan |
| 188. | 284 | Dubrajpur | Ram Prasad Das |
| 189. | 286 | Bolpur | Dilip Ghosh, Distt. Vice President |
| 190. | 288 | Labpur | Adv. Nirmal Chandra Mandol |
| 191. | 289 | Sainthia | Smt. Priya Saha |
| 192. | 291 | Rampurhat | Dudkumar Mandal |
| 193. | 292 | Hansan | Smt. Rupa Mandol |
| 194. | 293 | Nalhati | Anil Singh |