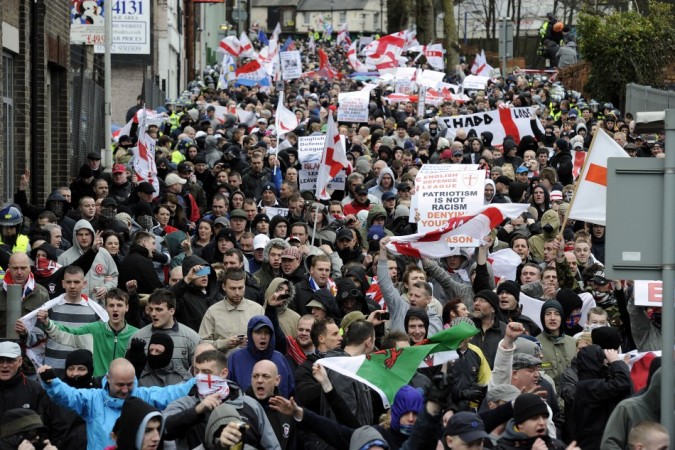 The Birmingham woman, Saffiyah Khan, whose picture of her staring down at an English Defence League (EDL) protester went viral, has said she "was not scared in the slightest."
Khan's picture was shared widely on social media as a symbol of Birmingham's defiance in the face of the far right. The image was captured during a demonstration of EDL, a far right group, in Birmingham city centre on Saturday.
The image showed Khan staring into the eyes of a man wearing an EDL t-shirt and smiling at him in defiance, while a police officer is seen trying to restrain the man. The picture was taken by the Press Association photographer Joe Giddens, and has been shared thousands of times.
Khan was surprised at the reaction her picture received and said she felt compelled to step in when Ian Crossland (the man in the picture) and over 20 EDL supporters confronted a woman wearing a hijab, according to Birmingham Mail.
Khan said she was observing the EDL protest in Birmingham when the incident happened, and claimed police "did nothing" to protect the woman in hijab. However, when she stepped in to defend the woman, the EDL group turned on her.
In the picture, Khan can be seen standing her ground with one hand in her pocket and looking down at Crossland with a smile.
The image caught people's attention when Good Morning Britain host Piers Morgan tweeted it: "**PHOTO OF THE WEEK** Enraged EDL racist stared down by amused, contemptuous Asian woman."
It was soon shared by the local MP Jess Phillips on Twitter, who wrote: "Who looks like they have power here, the real Brummy on the left or the EDL who migrated for the day to our city and failed to assimilate." Brummy is the dialect of Brimingham.
Who looks like they have power here, the real Brummy on the left or the EDL who migrated for the day to our city and failed to assimilate pic.twitter.com/bu96ALQsOL

— Jess Phillips MP (@jessphillips) April 8, 2017
Khan said she wanted to keep a low profile and did not want to engage in any confrontation.
"The reason I was there was because I am a Brummie. This was happening in Birmingham and it felt right. I am not a political activist. I wasn't in a confrontational role, I wanted to keep a low profile," Khan said. "I was there with a few friends to look after people - because Muslims and people of colour are often abused. Nothing was really happening until a woman in a headscarf started shouting 'racist'," she added.
Khan recounted that about 20 to 25 EDL people surrounded the woman in hijab. She said the woman looked terrified.
"I still hung back and waited for the police to sort it out. I waited two or three minutes and but the police did nothing, so I decided to go and try and get her out of there. It all happened very quickly. She left, but then I was identified as anti-fascist. The group turned on me.
"Ian Crossland was poking his finger in my face, but I just stood there. I didn't do anything, I wasn't interested, that wasn't my intention," Khan said.