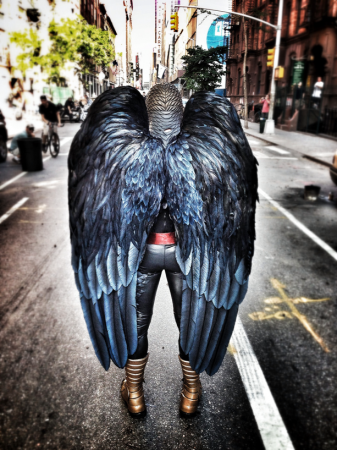 IB Times India Rating: IB5
With all the makings of an Alejandro G. Iñárritu film, "Birdman" or "The Unexpected Virtue of Ignorance" is a brilliant amalgamation of comedy, drama and action. Michael Keaton's Riggan Thomson, a washed out Hollywood star, is trying to make a name as an "artist" and wipe out the memory of "Birdman" -- an action hero role that made him famous.
Marinating in existential crisis, Riggan believes that by writing a theatre adaptation of the Raymond Carver-short story "What we Talk About, when we Talk About Love", directing it, and acting in it, he can prove his worth to the whole world. As one of the characters aptly puts it, Riggan worries like everybody else, that his life would be meaningless and obsolete.
What makes his character and his predicament even more interesting is that Riggan is haunted by the ghost of "Birdman" who taunts him and yet comforts him. When alone, he is seen moving objects with the flick of a finger or the swish of a palm. But in the presence of another character he has to physically move them.
Keaton excels as the obsessive artist, so desperate to show the world that he is so much more than a man in bird costume. The frustration in not being able to become the kind of father and husband his daughter and wife deserve, the genuine belief that he is better than the actors who went too mainstream, and the myriads of other emotions that ebb and flow within Riggan is beautifully portrayed by Keaton.
In fact, every member of the cast -- from the omnipresent Keaton to Merritt Wever, who has a tinier part as a stage manager -- adds value to the script and movie. No viewer can imagine anyone but Naomi Watts portraying Lesley, the thirty-something actress just realising her dream of starring on Broadway and still struggling to realise self-worth.
Emma Stone does not fail to impress as Riggan's recovering drug addict daughter, eliciting every emotion from the viewers -- empathy, anger, adoration and admiration. She has got all the nuances of a recovering drug addict and that of a young girl craving for her father's attention, down to pat.
Edward Norton's exceptional talent is well-suited for the acclaimed Broadway actor Mike Shiner, who is "honest" on stage, but like Riggan, is dealing with his own demons off-stage. His commitment to being a character on stage is displayed when he bursts out during a preview when he realizes his gin has been replaced with water or when he suggests to Lesley that they should actually make love in front of the audience.
Zach Galifianakis has taken on a role in which we have never seen him before. The Hangover" alum plays the straight guy in "Birdman", as Jake, Riggan's lawyer and best friend. He also delivers one of the most understated powerful monologues, which stuns the audience along with Riggan, to pay attention. He ends the heartfelt outburst with "by the way, your zipper is open", making the viewers chuckle.
The movie is filled with similar one-liners and understated jokes that reels the audiences deeper into the story. The humorous instances of "Birdman" successfully hook even a novice to the world of "art films" and prove that a film can deal with real, human emotions and still be appealing.
The dialogues in "Birdman" are brilliantly written, plots intricately woven and characters organically introduced.
Looking back, there could have been a million things that could have gone wrong with "Birmand"; the slipstream element, wherein the real and the unreal are woven together, could have very well made it confusing and unappealing. The interlacing of many small storylines, including that of Riggan and Laura's (Andrea Riseborough) fictitious baby, Sam and Mike's love story, Lesley's dream on being on stage, Sam's addiction to drugs and beautiful relationship between Riggan and Sylvia, Sam's mother.
The camera technique and background score used in the film are more-or-less avant-garde and deserve to be praised. From the time you see Keaton levitating cross-legged at the beginning to the moment he shoots his nose off on the stage, the camera does not so much as blink. But each dark tunnel and every empty hallway is supported by the background score that stand out, yet does not overlap with the story.
The unexpected appearance of the actual Birdman towards the end of the movie and the destructive fights that ensues, although lasting only for a short span, adds to its uniqueness and allows for the viewers to appreciate the entwining of various genres in this film.
In the end, "Birdman" deals with the bloated egos of every person that put their body of work to be judged by audiences and critics. It is a brilliant take on an artist's emotions and how living as a character for too long can challenge one's sane understanding of who they are.
"Birdman", which has successfully narrated one man's journey in pursuit of glory, is entirely deserving of the many awards coming its way, including the nine Oscar nominations.